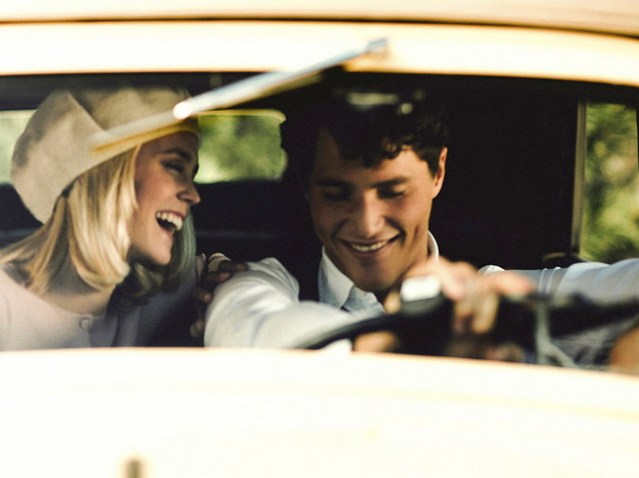 There's always plenty of hubbub surrounding folks whose work goes in front of the camera -- models, designers, stylists, etc -- but up-and-coming photography talents rarely get the attention they deserve. With that in mind, we're turning the spotlight on rising photo talent, Aram Bedrossian, an NYC transplant whose dreamy images can render even the most unremarkable subjects extraordinary.
Bedrossian, a San Francisco native, made a splash in the fashion community with a Bonnie & Clyde-themed shoot for a recent issue of "Utopia NYC" magazine. We were initially struck by its golden, Kodachrome-esque mood -- perfect for showing off the gorgeous vintage garb -- but Bedrossian's interesting composition gave the shoot a uniquely cinematic point of view (appropriate, of course, to the film that served as his subject). Bedrosssian explains that he tries to give his images "a cinematic breath, and feel as if they are stills from a movie" and often encourages his subjects to behave candidly, "as I weren't even there snapping away."
Considering the expert quality of his images, it's surprising to learn that Bedrossian still considers himself to be something of a student of the fashion industry. "A year ago, I didn't know the names of any models, photographers, or even designers," admits Bedrossian. "When I moved to New York a year ago the fashion world flooded my life, and I quickly grew passionate about fashion photography." Bedrossian cites Patrick Demarchelier, Irving Penn, Richard Avedon and Annie Liebowitz among his newfound favorites.
With fall collections just around the corner, we hope some savvy designer taps Bedrossian to shoot a spectacular autumn/winter campaign, and sends the newcomer skyrocketing to photo fame.