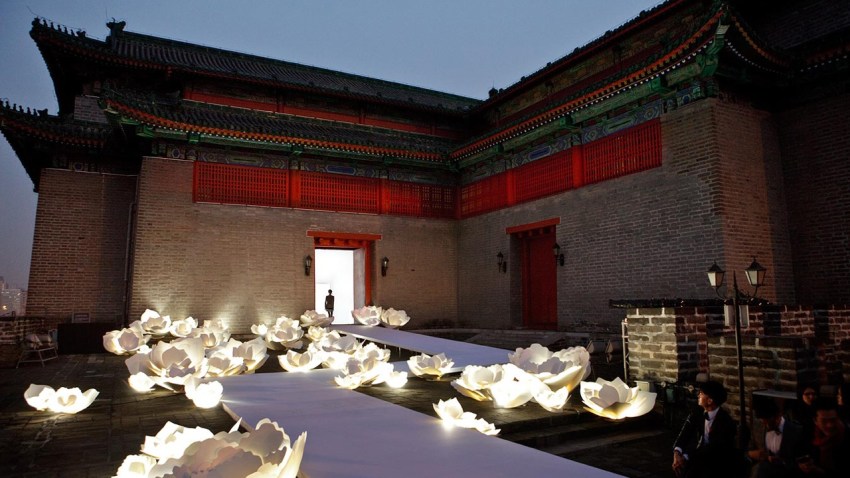 Andrew Ondrejcak started his career in the theater and art world, but began to dabble in runway production when he met Phillip Lim in 2004 (then first launching his own label). Ondrejcak worked on Lim's first runway show, and every one of his shows since. There was the fiery red runway with a mirrored backdrop he created for Lim's spring 2010 show, the wooden runway that extended from what looked like a modern house under construction for the spring 2011 men's show and the runway scattered with thick paper chrsanthemums made for Lim's 5th anniversary show staged in Beijing last year. We talked with Ondrejcak about the collaborative process and what it's like moving between the theater and fashion worlds.
What is your background and how did you get into fashion set design?
I was working in the theater on a large-scale art installation and a friend suggested that I consider fashion to round myself out. I was introduced to Phillip Lim and worked on his first collection [for fall 2005]. I have also worked with
Vena Cava
on two of their collections.
How has your theater background influenced your work?
Theater people tend to be resourceful. They need to use multiple things in multiple different ways. They need to be careful with time and materials, and they also know how to work with a limited budget. I've brought that mentality to my fashion work.
Was this a surprise career for you?
I'm still very much involved in the theater and art world. Last year I performed at the Museum of Modern Art in the Marina Abramović retrospective. I am also working on a theater-dance performance, which is being curated by
Robert Wilson
, for the Guggenheim. So I am definitely still moving between the two worlds. I like having my hands in both.
What is your collaborative approach when you are working with Phillip Lim?
I go into his studio when he is working to take in what he is doing for that season. I look at the fabrics he is working with, and the colors and textures he is focusing on. I take all of these things into account, but I take a conceptual approach.
There aren't that many designers in New York who stage experimental and theatrical runway shows, why do you think that is?
Most designers in New York just don't have the budget to stage a large scale show, with professional scenery. Phillip has always cared about the experience. He cares about the images that photographers take and the experience that his audience has.
Can you give us a hint of what this season's Phillip Lim set will look like?
I had my first meeting with Phillip in December, when I started looking at sketches. I want to immerse the audience in light [this season]. The show is taking place in a warehouse and it's my job to transform the space and create something special.