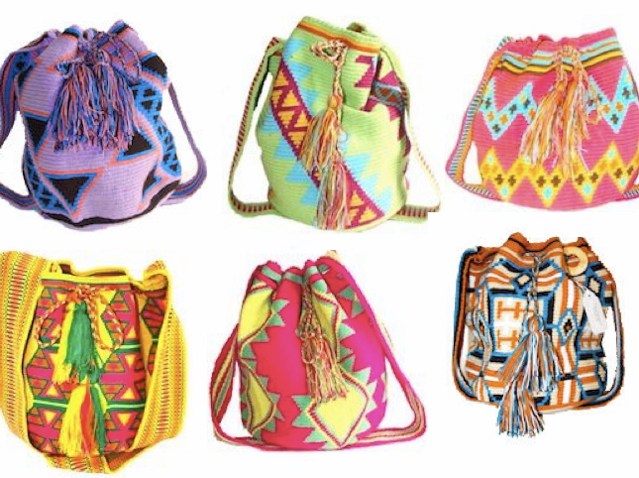 If one thing is certain this spring, it's that tribal prints and globally-inspired accessories are here to stay. But while most designers seek to imitate or reinterpret an "ethnic" print or product, others have been offering up the real deal, so to speak. One such company is The Wayuu Taya Foundation, a nonprofit organization based out of Venezuela whose famous "Susu" bags, hand-woven by the women of the impoverished Wayuu community, have been making a splash on New York City sidewalks.
Founder Patricia Velasquez, whose lovely mug might be familiar after her decades-long acting and modeling career, started the group nearly ten years ago with intent to aid the suffering Wayuu community by providing basic health services, school houses and even art programs to children and families. Those stylish Susu bags are only one aspect of the organization's tremendous charity efforts, which have come to benefit struggling communities not only in Venezuela, but victims of the devastating Haiti quake.

For those who might not know, can you explain who the Wayúu are?
The Wayúu, or the Guajiros, are an indigenous group of over 450,000 people [living in] the Guajira Peninsula of northern Colombia and northwest Venezuela. They are among the few Latin American ethnic groups that have been able to avoid European acculturation over the centuries.

Do you have a personal connection to the Wayúu?
Yes, I am part Wayúu. My mother comes from this community.

Was there a specific experience or moment that inspired you to start The Wayuu Taya Foundation?
The idea of the foundation was born 9 years ago when some friends and I donated a pump to draw water to the community Wayúu. After seeing the positive impact in the community, we established the foundation and its programs.

What is central mission or purpose of the Wayuu Taya Foundation?
Our mission is to help improve the lives of Latin-American indigenous people while maintaining and respecting their traditions, culture and beliefs.

How has the foundation changed, grown or evolved since its beginnings in 2002?
We started out very small, first only working with the Wayúu. Recently we expanded our work to the Amazon, supporting health care, income generation and education initiatives benefiting members of the Jivi, Yanomami and Piaroa indigenous groups. Following the tragic earthquake that ravaged Port Au Prince, we also responded with the creation of the Help Haiti Hope initiative to assist with ongoing relief efforts.

WT has successfully improved the lives of hundreds of indigenous children by providing education, school supplies, health care, and food; moreover it has provided their mothers with employment and income generating opportunities as well as practical seminars.
What are some of the specific problems that the organization works to remedy?
We work in communities whose primary needs and problems include extreme poverty, high malnutrition rates among the child population as well as high child mortality rates, gastrointestinal disease due to lack of clean drinking water, and deficiencies in education that prevent integral child development.

Tell us a little about the Susu bags: who makes them, and how?
The bags are made by Wayúu women at Shukumajaya. The bags are sold on our website—90% of the net proceeds go back into the community—or in stores and exclusive boutiques nationwide and abroad.

Do you think the current "tribal print" trend has helped increase visibility of Wayuu Taya products?
Absolutely! We couldn't have anticipated a better response. I think a great deal has to do with indigenous and handmade nature of the bags, and that they are supporting such a worthy and incredible cause. But it doesn't hurt that are "on trend." You know what they say, "timing is everything."

If there was one thing you could make Westerners understand about the Wayuu, what would it be?
Like the majority of indigenous towns, the Wayuu have been victims for centuries, socially ostracized for their difficulty to assimilate to new cultures without losing their traditions and ways of life. They are people in need who lack basic services, which puts them in permanent risk—above all in terms of their health. With a little help and empowerment from the initiatives of the Wayuu Taya Foundation, they can at least have access to an education and adequate medical attention, and also learn how to live in harmony with their culture, beliefs, and traditions.

What's next for the Wayuu Taya Foundation?
We have begun working with FESNOJIV, the National Network of Youth and Children's Orchestras of Venezuela, towards the creation of the first indigenous youth orchestra and will work on expanding our mission and scope to benefit more indigenous communities in Latin America.