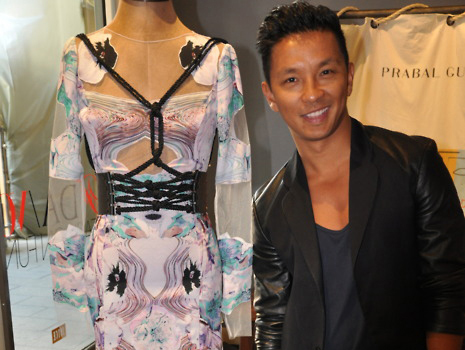 The CFDA, with financial support from Tommy Hilfiger, brought a group of ten of the past CFDA/Vogue Fashion Fund finalists and winning designers to participate in a shared showroom space during Paris Fashion Week for three days. The designers selected included Billy Reid, Eddie Borgo, George Esquivel, Gregory Parkinson, Monique Péan, Ohne Titel, Pamela Love, Prabal Gurung, Simon Spurr, and Sophie Théallet. The space, at the Galerie Joyce at the Palais Royal, along with highlighting the Spring 2012 collections of these designers also displayed limited edition tote bags created by them, which are being sold at Tommy Hilfiger stores and on Tommy.com, and will benefit the CFDA/Vogue Fashion Fund.
The general sentiment among designers who participated was that the opportunity enabled them to be exposed to a bigger audience. In a virtual world where runway shows are livestreamed and fashion show images are available instantly, this highlights the importance, especially for rising star designers, of spending face time with press and buyers.
"Having the opportunity to present my latest collection puts the presentation on a global scale, one with an international audience," said shoe designer George Esquivel, whose latest collection is inspired by California culture. "Paris attracts Middle Eastern buyers and press, Asian Buyers and press, European buyers and press and U.S. buyers and press," he said.
Womenswear designer Gregory Parkinson said he is benefiting from the experience because of the unique caché that comes with showing in Paris, long considered the world's fashion capital. "Stores that would never come to the U.S. will see us here," he said. Spring 2012 marks the seventh season for Parkinson, whose latest collection is predominatly white and plays with textures like organza, crochet, georgette, silk voile and lace.
While many of these names are well known among those that are fashion savvy Stateside, several of these designers still have little to no presence in Europe. Billy Reid, Simon Spurr and Monique Péan, for instance, are first dipping into the French market thanks to the Americans in Paris initiative.
The effort also underscores the growing role of the CFDA and Vogue editor Anna Wintour, who visited the showroom alongside Susan Tolson, the wife of the U.S. Ambassador to France, in supporting America's emerging design talent in a variety of ways. Along with offering a physical space to the designers, the showroom provided them with sales, marketing and media support.
This group of ten weren't the only U.S. based designers who decamped to Paris for fashion week. Bibhu Mohapatra, Alexander Wang and a host of others re-showed their collection via appointment.