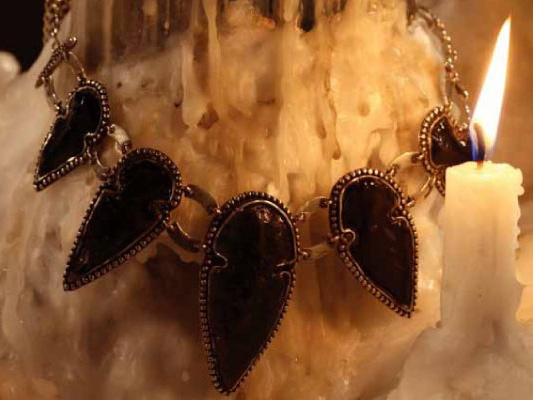 Like her recent collaborator, Tim Burton (by way of Alice in Wonderland, for which she did a promo collection), jewelry designer Pamela Love has a morbid fascination with all things ... well, morbid. Her newest work explores the dark side even more literally, with a medieval-inspired collection of sinister jewels and baubles that look like they were plucked from the set of Lord of the Rings.
Daring jewelry connoisseurs will relish in the tiers of bird claws, heavy skulls, chain maile cuffs, talon earrings and arrow head necklaces that compose Love's darkly enticing spring collection. Some pieces--like a set of no-nonsense brass knuckles -- seem to call for a gory battle scene, while others, like the tear-drop crystal ring, can easily be incorporated into this century.
A few too many teeth for your taste? Check out some of the "friendlier" options in Love's classic collection, like the embellished peacock ring or anatomical heart locket. Like all of the designer's baubles, take caution not to inadvertently injure somebody with a vulture claw.
Shop the collection online or find complete stockist info at www.pamelalovenyc.com.