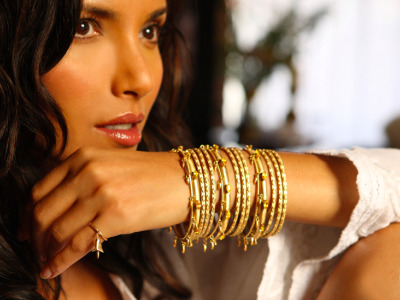 We caught up with radiant new mom Padma Lakshmi at Bergdorf Goodman yesterday afternoon as she unveiled her latest Padma by Padma Lakshmi fine jewelry collection for spring. Turns out, her delicate pieces even reflect her love of spices, from curry leaves to gold-covered peppercorns. Also, despite something of an army handling her, we found Lakshmi to be truly friendly and relaxed.
Most folks know Lakshmi as a true renaissance woman between television, books and, of course, food, but she also does jewelry, and does it well. "I always made jewelry for myself. When I started doing Top Chef, I had 10-12 pieces I'd made because I wasn't finding what I wanted in the marketplace, so that's how it started, organically." Lakshmi (wisely, but innocently) wore one of the pieces on Oprah for a sandwich challenge, and so the official Padma by Padma Lakshmi fine jewelry collection was born.
Airy and colorful bangles, cocktail rings and strands and strands of necklaces seem just right for both casual days and party nights. Motifs across pieces reflect Lakshmi's diverse repertoire, "I work a lot with spices, you'll see there are curry leaves and peppercorns -- we actually cast a peppercorn in gold and made a bead out of it." A sweet little bean also makes a recurring appearance across various pieces, including on a layered necklace (the Oprah one!) that may just be our favorite. Among spring's new baubles is an Indian influence that's become a trademark of Lakshmi's design, most notably on the go-to bangle stack.
Immediately post-baby Lakshmi is still totally knockout, not too tired to cheerfully chat up afternoon Bergdorf-goers and, oh, yes, design a 40-piece jewelry line. We tried to needle out some hint of sleep-deprived angst, but alas, we got a simple, "yes, it's hard, but you try," in an impossibly effortless tone.
In fact, there's no rest between collections -- Lakshmi hinted that the fall 2010 collection would be somewhat of a departure from past collections and from spring's light, botanical-inspired theme to a chunkier, slightly edgier vibe -- think heavy chokers and the like.
The spring collection consists of 10 and 14 carat gold with precious and semi-precious stones and retails between $300-$6,000 at Bergdorf's in NYC, as well as in Connecticut and Beverly Hills.