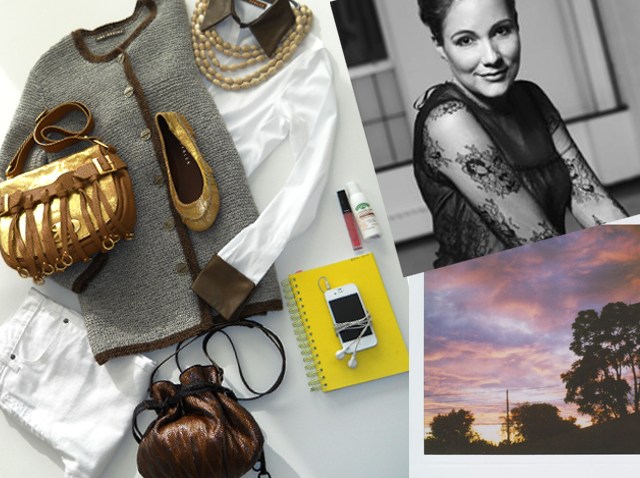 Designer Devi Kroell -- she of the outrageously chic python hobo bags -- launched her new label, Dax Gabler, just six months ago with a range of casually stylish bags, shoes, and understated ready-to-wear.
While the new line doesn't skimp on the luxe materials and meticulous detail work that Kroell has become known for, it seems more representative of her own laid-back style, which we got an even keener sense of from her Memorial Day Packing list. Simple beauty basics like Whole Food's body lotion and pale pink Chanel gloss are all she needs to keep looking lovely on the road, while cool metallic flats prepare her for any sunny adventure the weekend throws her way.
Cardigan by Dax Gabler: "During Memorial Day weekends, days and evenings can still feel a little on the cold side and this relaxed hand-knit style gives me the perfect balance of chic and cozy."
Notebook: "Even when I am off duty, I keep thinking of my collection and have to be sure that any good ideas are jotted down for potential use later down the road."
iPhone: "I can't live without it! It's my entertainment -- music, apps -- connection to the outside world, and camera—love that camera app!!!"
Hunter bag by Dax Gabler: "Although the design was inspired by traditional hunting bags, I love how versatile it feels: urban in the city, country-esque in the country side -- it's the chameleon of handbags!"
Lip gloss by Chanel: "I don't know what it is about lip gloss ... It's not just the instant pout. I'm in sexy mode the second it's on."
Leather and Cotton shirt by Dax Gabler: "Super cool, no matter where you are, never loose your edge. This shirt helps you do just that!"
Necklace by Monique Pean: "A little piece of jewelry is always fun."
Hand Cream by Whole Foods: "No frills and it works."
Drawstring bag by Dax Gabler: "You can't go away without having at least two handbag options. The drawstring is a perfect cocktail piece for Memorial Day parties because your hands are free but all of your essentials are right there."
White Jeans by J.Crew: "Memorial Day is kind of the unofficial start of summer, and THE summer pant is and has always been a pair of white skinny jeans."
Flat by Dax Gabler: "I'm crazy for this non-moccasin moccasin. It's the Dax Gabler flat shoe must have!"