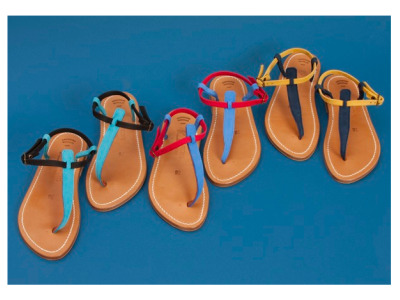 Opening Ceremony has collaborated with St. Tropez sandal vet K. Jacques on a line -- or rainbow, really -- of sandals for summer.
Handmade in St. Tropez for the last 80 years sounds almost like the introduction to a dreamy poem of sorts, but it's actually the true story behind K. Jacques, a local sandal brand that Opening Ceremony has taken under its wing, thus exposing the delights of its French craftsmanship to the discerning hipster masses.
The K. Jacques for Opening Ceremony collection will be available in a limited-edition series of five styles -- for men and women -- in a mix of suede, snake skin, and leather. From gladiators to T-straps, they're all pitch-perfect for summer, even if they're priced a big high (well, they are imported, we guess): from $245-$305.
Opening Ceremony is located at 35 Howard Street, or shop online at openingceremony.us.