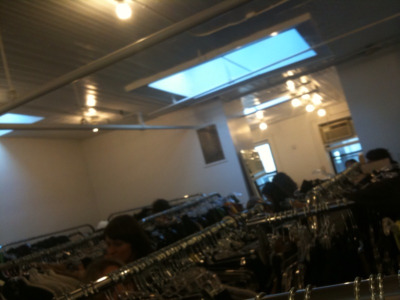 Not every fashion-minded person in New York is in line for Louboutins. Those hitting Opening Ceremony's sale should brace for tight, confined space; lots of "Wild Things" furs, and serious bargains.
We walked in to find menswear and coat check share a floor and upstairs one can find womenswear and men's and women's shoes. A sign reading "No Bathrooms! No Fitting Rooms!" greets shoppers as they walk in to the two tiny rooms. Shoes were scant, and their room was starting to get used as a makeshift fitting room-meets-store your hoarded goods space. Of the 10 or so styles available, there were a decent amount of pairs discounted more than 50 percent.
On to the clothing area, which was set up with the fatal sample sale flaw -- rows of racks that allow people to browse from either side, which of course breeds a lot of tugging between phantom hands and piles of fallen garments. Dead-end aisles fit about three people before things get too cozy, but there's a substantial amount of merch and manners at the event.
Though there's an overabundance of Where the Wild Things Are and Kate Moss for Topshop dominating certain spots, there is also a fairly wide selection of Opening Ceremony's requisite brands Alexandre Hercovitch, Pendleton, Chloe Sevigny for Opening Ceremony and Betsey Johnson Archives. The best deals we spotted, perhaps, were the low prices on a ton of Boy by Band of Outsiders stuff that went as low as $25 for a cropped jacket.
By the time we left a little before noon, the line had grown quite long, even though when we popped over at 10:45AM we didn't have much of a wait. Hipsters, perhaps, won't wake up early -- something to keep in mind when scheduling a trip to the sale this weekend.