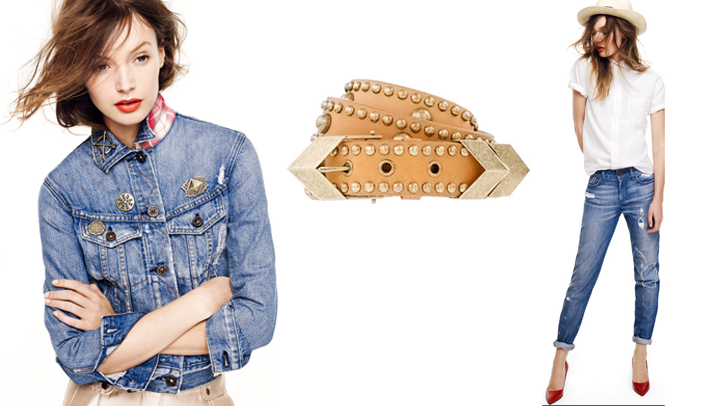 Jewelry designer Pamela Love has extended her talent into a new arena for her special collaboration with J.Crew: denim. The CFDA/Vogue Fashion Fund runner-up has create a three-piece collection for J.Crew -- available to shop online starting today -- that includes a jean jacket, a pair of distressed jeans, and a studded belt.
According to J.Crew, denim is the only thing Love adores as much as jewelry, and the designer said in a statement that "the collaboration was inspired by what my friends and I wear almost on a daily basis."
Love's jewelry has always had an edgy, at times delightfully macabre twist to it, and while the designer's J.Crew collaboration doesn't feature the kind of jewelry for which she's best known, the denim and chevron-flecked belt certainly does seem to fit with her overall aesthetic. As the designer says on J.Crew's site: "I definitely pull a lot of inspiration from the American Southwest and from Mexico and South America -- I try to travel as much as I can."
Love's collaboration is the second in J.Crew's series of collections with the winners and runners-up of the CFDA/Vogue Fashion Fund. (J.Crew is a sponsor of the award.) The first collection featured looks from Joseph Altuzarra, and the final collection from rising label Creatures of the Wind is due out on June 14.