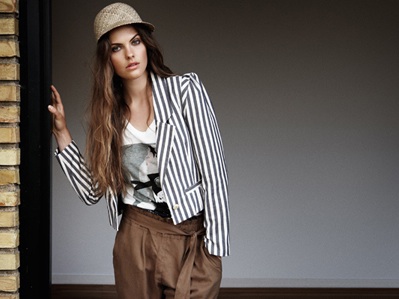 A Danish-based label is a classic example of how a team can be stronger than an individiual, as the creative thinking behind the designs is the product of a whopping seven industry insiders.
The result is nümph, a Danish label offering a solid selection of affordable knitwear, tailored trousers and blazers, dresses, flowy tops and basic separates. The group of seven, comprised of designers and fashion-industry business managers alike, have been designing in Europe for several seasons now, but only made their stateside debut last year, giving Americans a dose of the sartorial goodness that comes as a result of so many points of view.
Silhouettes are sharp and well-constructed, without sacrificing a certain prettiness. What comes across as serious style -- bold trouser cuts, exaggerated accents like fringe and shoulder ruffles -- doesn't skew so far off the grid as to be rendered a downtown-after-midnight item.
Currently, nümph is stocked stateside by savvy shops like Babel Fair and Pixie Market, who'll have the goods front and center come spring.