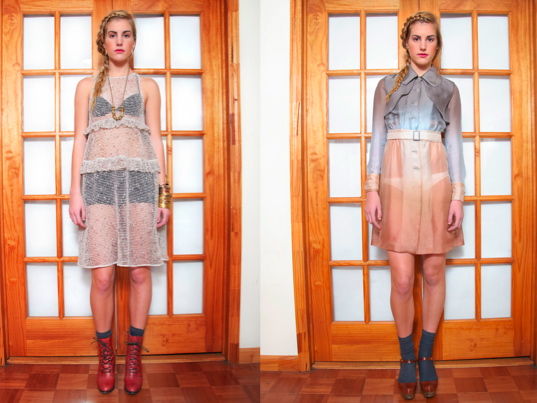 Born-and-bred New Yorkers, Darlene and Lizzy Okpo, claim they were "partners in crime" before becoming partners in fashion. The sisters' shared label, William Okpo, is named for their impeccably styled father, a man so utterly fashion-conscious "he spends two hours every Sunday ironing his outfits for the entire week, and about thirty minutes throughout the week re-ironing his outfit the night before," the girls told us.
In pursuing fashion, Darlene and Lizzy abandoned their parents' hopes for careers in medicine. The sisters claim to collaborate on every inch of their collections, but formally, Lizzy serves as head designer while Darlene is the creative director. "Ultimately, we work hand in hand with everything," Lizzy explains. "Together we would sit in the living room and discuss what we love ... [Darlene] being the creative director keeps me on track, because she is very organized and I am all over the place. She helps me color within the lines and keep everything looking consistent."
Now in their second season, the spring collection reflects a maturation of their vision, with sophisticated silhouettes and a rich ombre color palette of pale peach and blue. Though the girls claim to still be "exploring design aesthetics," the spring/summer line drives home their shared infatuation with asymmetrical shapes and frothy silks. Asked to describe their brand in three words, Darlene offered "effortless, delightful, and impactful," while Lizzy said simply "made with love." It augurs well for William Okpo that both of their descriptions are immediately visible in the clothes.
View the spring/summer collection at williamokpo.com.