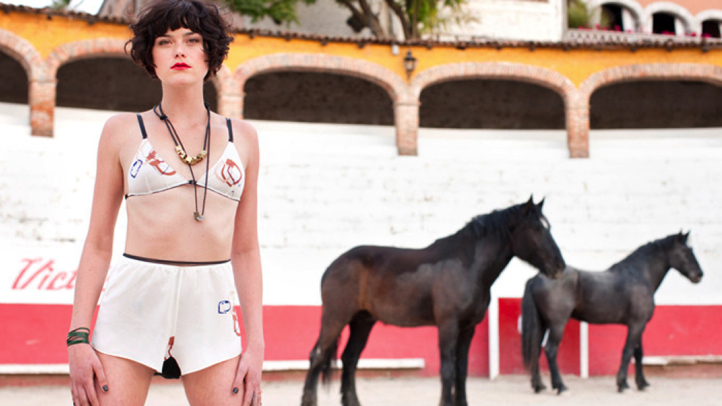 Maybe it's because Valentine's Day is right around the corner, but recently, we've found ourselves eyeing our lingerie wardrobes with new interest.
Formerly of Jackson, Johnston and Roe -- the hip ready-to-wear-line whose silky printed jumpsuits we coveted last year -- designer Teo Griscom's collection of unusual underpinning and easy leisure wear, Unforeseen Circumstances, is exactly the thing to rejuvenate a top drawer brimming with T-shirt bras and cotton Hanes briefs.
"I have always been a huge fan of dance and performing arts," says Griscom, whose own background in fine arts helps her to develop painterly color palettes. "The stage, costuming, and the collaboration that it all entails. Lingerie is a bit like that for me -- a possibility to tell a story."
That story, Griscom says, is intended for someone who "likes to be sexy, but not in an obvious way. Someone who values the attention to detail." And Griscom goes to great lengths to ensure that each piece is at picture perfect, eschewing traditional elastics in favor of "hook and eye closures for the bras, because I didn't like the synthetic closures."
While slinky, silky pieces are in abundant supply, the line is also marked by textures that one wouldn't often find in the lingerie world -- in particular, a soft, silk mesh that looks like rough burlap from a distance.
"[Each piece] is meant to be worn in private moments, but also double as something that can be shown off in a public way," says Griscom, who admits she'd eventually like to flesh out her vision to ready-to-wear. "I want them to be the main story of an eventually evolving line as well." Griscom's own story, of course, is one we'll be watching with extra interest this year.