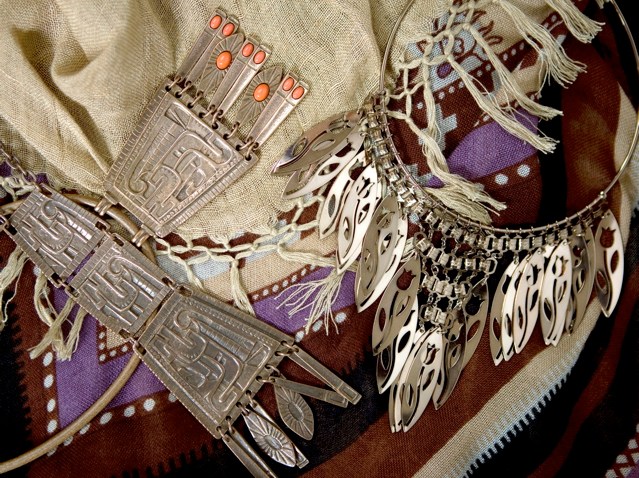 There doesn't seem to be much that Stefani Greenfield and Desiree Gruber, founders of new accessories label, Theodora & Callum, can't do. When first perusing their selection of brightly-colored scarves, statement jewelry and funky printed espadrilles, one would never guess that the designers responsible had ever done anything besides create fanciful prints and baubles.
"Everything Desiree and I do happens spontaneously and usually sitting around a table with our teams," explains Greenfield, who co-founded the Scoop NYC stores before starting her brand consulting company, My Next Act.
"There was no master plan behind the conception of Theodora & Callum," she continues. "We were looking for a platform that would house all of our creative inspirations -- whatever excited us at the moment."
Her partner, Desiree, who co-created a little show called "Project Runway," adds that their "respective backgrounds working in fashion and entertainment definitely gave us a basis for starting the collection, but it was really our roles as busy working moms that truly provided us the inspiration to start the line." Both avid world travelers, the women find ample inspiration in their summertime adventures to Morocco, Bali, India and Turkey, from which prints and textures are created.
The espadrilles -- made in collaboration with shoe maestro, Stuart Weitzman -- are a particular highlight of the current season. A mash-up of ethnic prints and patterns, we're certain they'll soon be strapped around some of the most stylish folks in the city.
"I've had a great relationship with Stuart for many years and we had a successful collaboration during my Scoop days, so when we decided to venture into shoes it was a natural fit," explains Stefani. "The prints on the shoes are taken directly from our scarves, which allows for a lot of fun mixing patterns."
To view the complete collection visit www.theodoraandcallum.com.