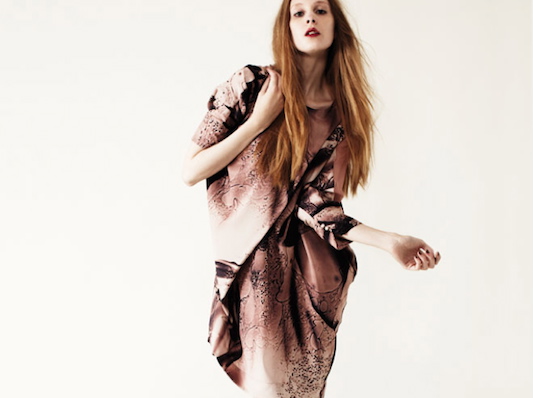 New London label Teatum Jones is a study in contradictions: the collision of light and dark, masculine and feminine, structure and effortlessness. The brainchild of designers Catherine Teatum and Rob Jones, the new label has been turning heads with its debut spring '11 collection, which is equal parts "romance and tragedy," opposite design moods to which the designers claim a hopeless attraction.
Luckily, what arises from the combination of the two proves pretty remarkable. One might not expect design references like 17th century Spanish Baroque art and microscopic human cell imagery to yield anything cohesive, but Teatum and Jones developed a unique print to encapsulate their theme. The strange pink pattern, used on everything from billowy silk tops to draped cocktail dresses, gives the collection its unusual texture as well as a sort of futuristic, even scientific vibe.
Though rather high-concept, the pieces all strike us as low-maintenance, carried by the dramatic draping and innovative silhouettes. We can't wait to see more from this dynamic duo -- fingers crossed that they'll be making an appearance at London Fashion Week.