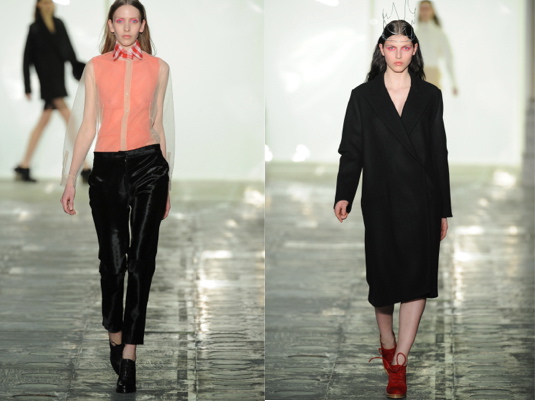 UK residents have likely already heard of newcomer Simone Rocha, the mega-talented daughter of Dublin-based designer, John Rocha, who has already created windows at Selfridges and exclusive one-off designs for Topshop.
But we're delighted to be spreading the good news stateside. Now entering her third season, Rocha, who graduated from Central Saint Martin's esteemed MA program in 2010, continues to show collections cohesive and mature enough to belie her young years.
Of course, it seems her ambition has been percolating for nearly a decade. "I always new I would be a creative type," Simone told us. "I've always been interested in art and design. The decision to do fashion design came to me when I was 16."
Known best for her explorations of hard and soft design elements--pale peach chiffon paired with tough leather separates, for example, was a theme in her most recent collection, which took inspiration from Louise Bourgeois--Rocha's work might be described balancing act of design contradictions.
Which is precisely what intrigues her customer base. "I think people are drawn to the contrast of fabrication and the execution of tailoring, but also mixing something masculine and feminine to create something fresh."