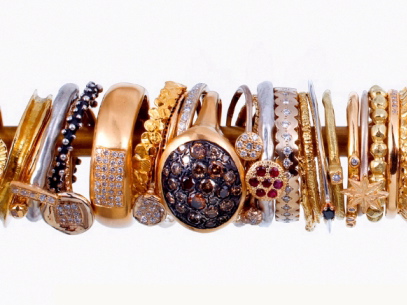 Brides-to-be seeking a hip alternative to the standard Tiffany's princess-cut, this one's for you: New York-based jeweler and trained diamond setter, Satomi Kawakita, specializes in "stackable" hammered gold bands festooned in tiny (or not so tiny, if the occasional calls) diamonds.
When we think "diamond," the image that typically comes to mind is a shimmering white stone in a vaguely conical shape. For Kawakita—who worked as a professional glass-blower before turning her attention to jewelry—diamonds are anything but predictable.
"People especially love my hexagon rings and grey diamond rings as engagement rings," she explains. "I think people are looking for something subtle. Unusual, but not too crazy. And like the fact that I design and make everything by myself."
Best of all, almost everything in the collection is designed to be stacked, or paired with complimentary styles. "I wear about 25 rings every day," explains Kawakita. "People love the way the rings stack!" At the moment, we're particularly enamored of a yellow gold band topped with a square perimeter of tiny pave diamonds, which would pair perfectly with one of the solid black diamond bands.