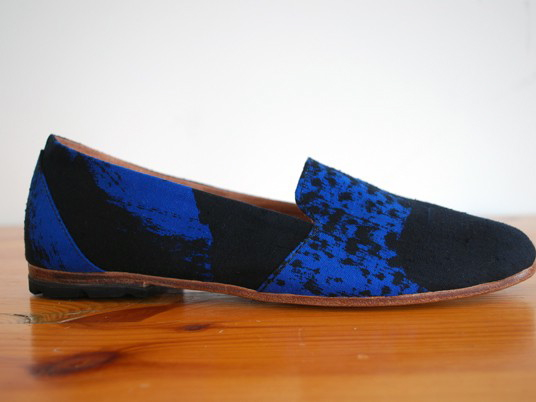 Aaron Osborn came up with the concept for his eponymous shoe line under extraordinarily serious circumstances. "I was translating for a bunch of doctors [working in a community affected by Hurricane Katrina], and my translators from Spanish to the local dialect were all tailors or cobblers by trade," Osborn told us. "Their fields ... had been weaker than previous years, and with the heavy rain, they just slid into the river."
Over the course of their conversation, Aaron determined to combine his love of craftsmanship and design with his passion for charity and service, and soon went into business with his partner, Carla. The earliest Osborn shoes were one-of-a-kind and fashioned entirely from Huipiles, a traditional Guatemalan textile, by a cobbler in Antigua, Guatemala.
Of course, as word spread about these crazy, colorful kicks, Aaron and Carla had to change production methods to keep in step with demand, and soon began designing their own distinctive textiles.
"We like to come up with a sentence or two that is a story that defines our collection," says Osborn. "We have about three different weaving families we work with. When we are designing a new collection, we take the textiles we love -- usually vintage Guatemalan designs -- and change the design and color. Then we work directly with the weavers, making sure that our designs make the transition from idea to textile. I have really become quite taken with weaving. It's so fascinating!"
The duo have certainly made a difference in our wardrobe (blue lightning oxfords, anyone?), but Aaron and Carla have made a difference in their workers' lives as well. "It's satisfying knowing that our shoes are made with respect, and our workers are now buying their own houses, or land, and sending their kids to schools."