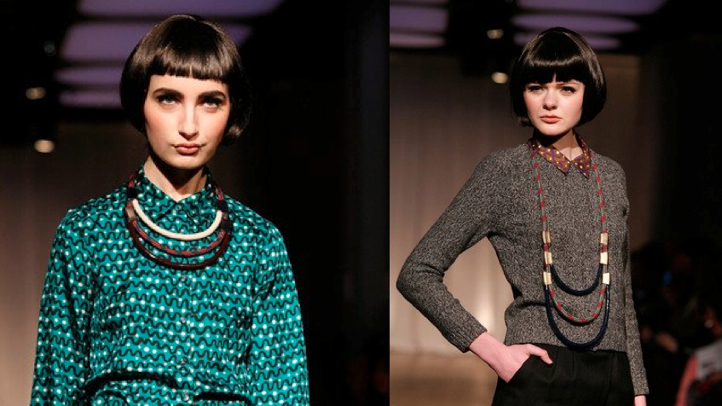 The first Orly Genger by Jaclyn Mayer piece came about quite by accident. "The first time we worked together was far from work," explains Genger, a trained sculptor. "We were hanging out in my studio, playing around with materials and goofing off. Jaclyn picked up some of my rope and started threading her chain through it, and that was our very first necklace."
Nobody could have predicted the myriad of statement-making necklaces the duo would produce together under their shared label, which, has since gone on to produce unique runway pieces for the New York labels like VPL, Lela Rose and Whit.
The ladies attribute much of their success to their complimentary design backgrounds -- Orly having trained in fine art and Jaclyn in photography and apparel design. "Orly's artwork has always been the jumping off point for us," says Mayer. "There is a constant back and forth between her work and the jewelry."
Each season begins with a brainstorming session, where the ladies put forth "every idea we can think of, both good and bad," says Mayer. "Then I sort through them and start playing and experimenting with different materials to see what works and what doesn't."
But do they always agree? "No, not at all!," she says."But it's good to not always agree, as it lends other perspectives to the conversation and creates dialogue that would otherwise not be there. It also helps to create more dynamic designs."
Dynamic enough, they hope, to someday be worn by their fantasy client: "The First Lady!," Orly exclaims.