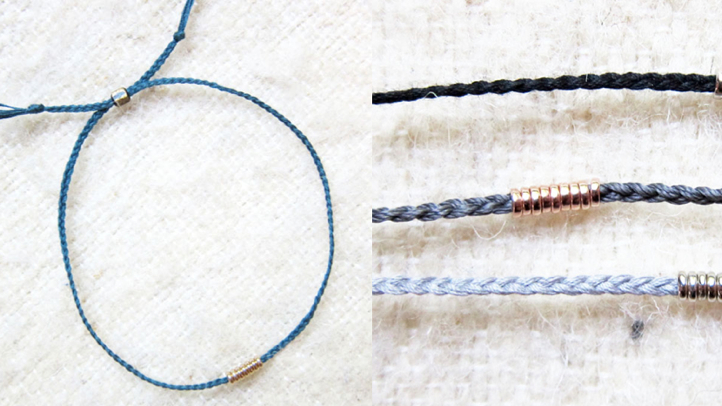 Remember the girls at school who were always better at making friendship bracelets than you? Cue Pittsburgh-native Lanya Snyder, whose collection of delicate, hand-woven bracelets are like the haute couture answer to your stringy summer camp baubles.
"My friends and I made tons of bracelets when I was young for fun, as a hobby," says Lanya, who trained as a photographer at Bard before returning to bracelet making. "This past year I was in between projects and picked up the thread again."
Her collection—Ora, named after the Hebrew word for light—takes inspiration from "nature, the color in plants and in the landscape" as well as travel excursions.
To put her own super-luxe spin on traditional woven bracelets, Lanya works primarily with silk thread (which won't fray as much as cotton) dappled with precious metals and luxe gemstone beading fashioned from black diamonds, coral, lapis and turquoise.
"It may sound nerdy, but I listen to NPR or the news a lot while stringing every morning," Lanya says of her design process. "And of course music, lots of music in the afternoons and evenings. I love the new Cat Power song."

Asked what's next for the friendship-bracelet fiend, Lanya eagerly reveals that hand-woven necklaces—"with black diamond beads and diamond chips"—are in the works.
At Bird, 204 Grand St, Brooklyn. 718-797-3776
Related Stories:
One to Watch: Metalepsis Projects