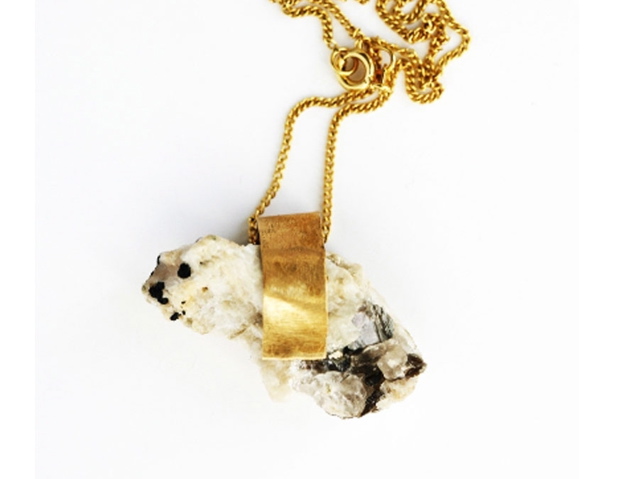 Berlin-born Jean Balke was working as an art director and occasional photographer when she was struck by the urgent need "to create something three-dimensional."
Balke quickly left her day job to build a collection of jaw-droppingly gorgeous raw mineral jewelry, dubbed Nallik and launched last year in her Cobble Hill studio.
"[It is] an Inuit word for love," Balke explains. "But the Inuits have many words for love! For some reason, I have always been fascinated how they have words that we can't translate directly with just one. This one means 'nurturing and protecting love in a motherly way.'"
Indeed, Balke's passion for stones and uncut minerals is a hobby cultivated from childhood. "I have been collecting stones since I was little," she says. "Pebbles, shells and the like. But I grew very excited when I found unpolished raw minerals. I like the healing quality of them, and I am still learning what each mineral can do for you."
Beyond their healing properties, Balke's mineral adornments offer their wearers bold fashion statements without coming across as over thought or overdone, allowing the simple beauty of the stones to eclipse the minimal metal settings and embellishments.
At the moment, Balke's collection only includes neck wear, but the designer claims we can "look forward to a ring and bracelet collection as well." A collaboration with "a major store chain in the U.S." is in talks for coming seasons. Soon enough, it seems, we'll be coveting Nallik's "nurturing" gems in the windows of all our favorite NYC boutiques.