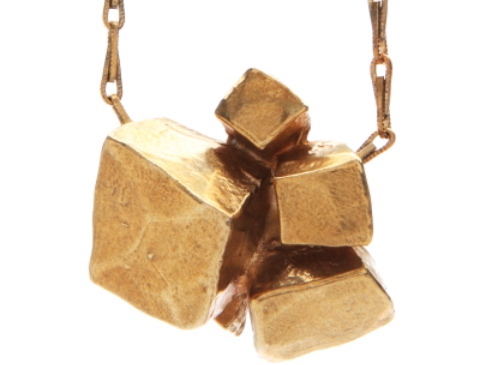 Ten years ago, jewelry designer Molly Rose Post relocated to New York from San Francisco to pursue a love for all that glitters.
"As a child I was always decorating things. Gluing one plastic sparkly thing to another plastic sparkly thing and then wearing it, or using wire and fabric to create wall decorations or clothing for myself and my family," explains Post, whose glinting, colorful baubles she often describes as "excessive." "I encourage my customer to wear a ring on every finger and layer up the bangles on the wrist," explains the designer. "Put on really large earrings that match your shoes—and don't forget big hair!"
For spring, Post looked to her lifelong fascination with sci-fi and fantasy to create a collection that explored unusual textures, scales and weights. "My interest in diversity, coexistence and interdependence ... has influenced what my creations express with the formal language of modernity with an eye to timeless unities."
If that sounds poetic, it's because it is. As with any of her artistic undertakings, Post thinks of her jewelry as more than merely decorative. "I believe that beauty is healing," she explains. "When you wear something beautiful or see someone wearing something beautiful, both the viewer and the wearer experience happiness, and a sense of bliss."