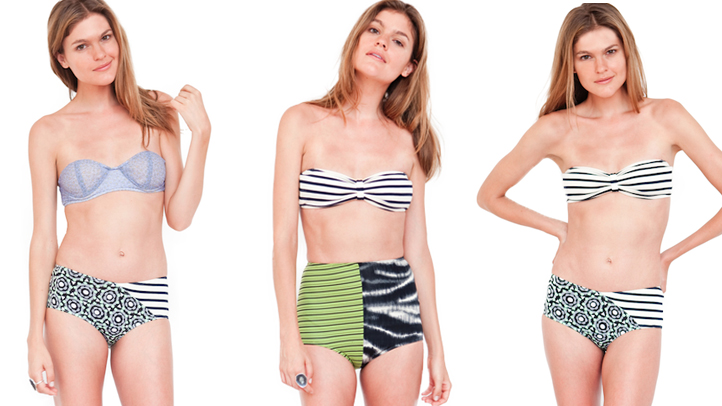 A birthday vacation to St.Thomas had Gabby Sabharwal scouring her favorite boutiques for bikini options. "I had always been drawn to the colorful prints of Missoni and the sleek silhouettes of Eres bikinis, but not to the price tags that came with them," she explains. "The swimsuits available in my price range were so ordinary, and I always knew I could most likely count on seeing another girl wearing the same one -- I thought, 'Why not make my own?'"
Which is precisely what Sabharwal did. This month, she launches a collection of six mega-flattering swimwear pieces dubbed "giejo" (a childhood nickname that stuck), all priced between $76 and $108.
"I wanted to make an affordable line that was fashion-forward but not mass market," she explains. "I also wanted to challenge the way bikinis are presented by stores. Girls today do not wear head-to-toe designer and usually wear a mix of high and low, so why don't we have that option with our swim?"
Indeed, the concept of "mixing" in general -- both in terms of price point and design -- became germane to giejo's creation. "I love to layer, and mix and match patterns and textures when I dress, and I really kept that in mind when choosing the fabrics and prints for my suits," she explains.
Yet, in compiling fabric samples for the line, the designer found herself unable to narrow down the options. In a moment of frustration, she recalls throwing everything on a coffee table. "They landed on top of each other in a crisscross," says Sabharwal. "It was like the bells started ringing and I thought, 'This looks really cool together!' I had never seen a suit with mixed prints like that, and thought, 'This is it.'"
The resulting mismatched motifs, which combine stripes, florals, and geometric patterns in surprising harmony, give the collection a playful punchy-ness and cool-girl swagger. "My client [is able to] create her own style," says Sabharwal. "You can take your favorite silhouettes from your collection at home, and update them with a few simple styles from giejo to entirely make them your own." How's that for mixing things up?