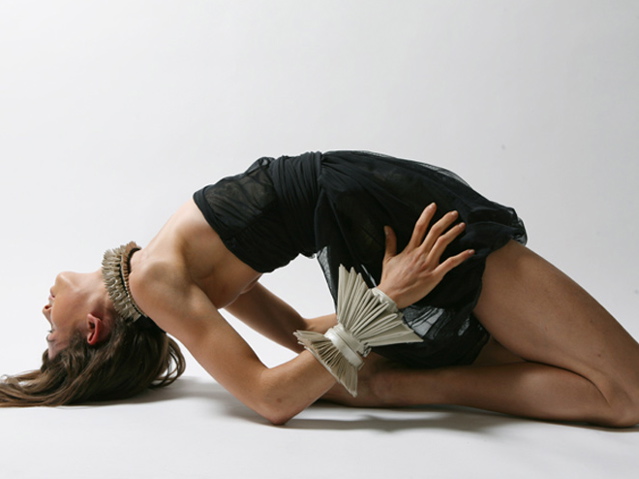 If glitzy metals and shiny stones aren't for you, consider these striking cloth jewelry creations from UK-designer, Michelle Lowe-Holder. Using traditional "smocking" techniques, Lowe-Holder is able to conjure up origami-like pieces in soft, silky textures and vivid colors.
"I started to collect antique and vintage clothing when I was 12, and still have some of the pieces I bought," Lowe-Holder told us. "They still look amazing to me."
Unique textiles are the driving inspiration for Lowe-Holder, who attended Pratt Institute in New York before crossing the pond to study knitwear at Central St. Martin's. "[My team and I] will make fifty to a hundred swatches and fabric tests before deciding on a direction and collection concept," she explains.
Because of the flexible nature of her materials, there's seemingly no limit to what Lowe-Holder can create from her fabrics, including enormous, statement-making pleated cuffs and dramatic head pieces fashioned from looped ribbon.
A favorite in outrageous fashion editorials, Lowe-Holder has big plans for she and her company. "World domination may be slightly aspirational, " she laughs. "But today is uncharacteristically warm, balmy, sunny and really quite un-British weather, so why not!"