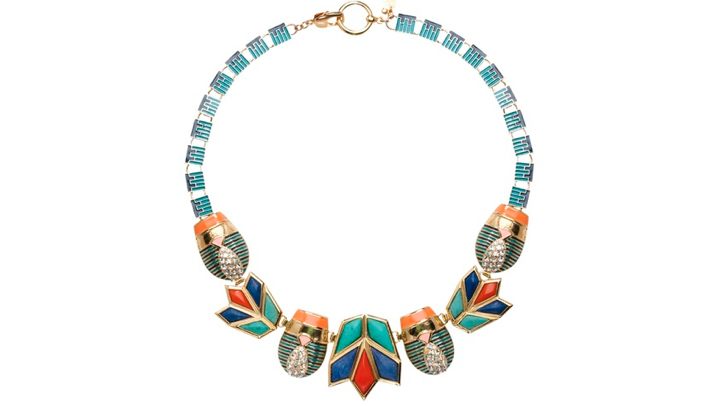 You're probably more familiar with Lele Sadoughi's jewelry than you think. As head designer of J.Crew's jewelry from 2006 to 2011, the Dallas, Tex., native is largely responsible for the brand's now-ubiquitous statement necklaces, glitzy bracelets and chandelier earrings.
"I like to think I learned about the big picture," Sadoughi says of her experience at J.Crew. "I love to make the fabulous statement necklaces, but sometimes I want to wear a charm on a chain link necklace. I think about the woman that wants a button earring for everyday and the fabulous chandelier earring for special occasions. We need a piece to fit all our moods."
Last year, Sadoughi left J.Crew bent on launching her first eponymous collection. "Jewelry design is a completely different mindset than apparel," says Sadoughi. "I relate more to furniture designers, because I like to think about construction, material and weight. Costume jewelry is so fantastical and emotional. It does not keep us warm or protect us from the elements; it simply elevates our look."
For the new collection, Sadoughi scoured flea markets all over the globe for inspiration. "I recently spent some time in Marrakech digging through piles of dusty jewels in the shops throughout the souks," says the designer. "I also make several trips a year to the Picture Collection on the third floor of the Bryant Park Library. It is the place where broken books lay to rest and you can rent out tear sheets from these battered books."
For her debut season, Sadoughi found inspiration in the discovery of King Tut's tomb in the early '20s. "I wanted to reinterpret ancient Egyptian columns, drawings of lotus flowers, and jeweled headresses into modern, geometric elements," she says.
To wit, the elegant "Lotus & Scarab" necklace, which features glittering stones handset into 14k gold-plated lotus frames with crystal scarabs, or the "Nile," with glass stones set into black and white striped enamel settings and finished with shining crystals.
"In the 1920s, there was a shift in the direction of costume jewelry. It was no longer about making imitations of precious jewelry, but about creating art," says Sadoughi. "Basically, I am trying to create a new world from old ideas each season."
Lele Sadoughi' spring collection is available for pre-order at www.lelesadoughi.com
Related Stories: