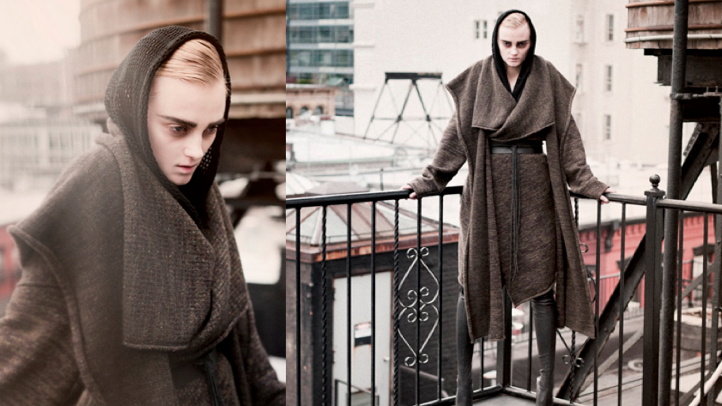 Sweden-born Lars Andersson began knitting as soon as he could hold the needles. "My mother taught me how to knit when I was about 5 or 6," he explains. "The first little piece I made on toothpicks was for my 'Monchichi,' this little monkey doll that was very popular in late '70s."
Years later, after relocating from Paris to New York, Andersson found himself in Marion Graelish's renowned machine-knitting courses at FIT. "I took three seminars and loved it. From my first class, I knew this is what I wanted to do."
The overwhelming response to the custom, one-off creations he made for friends finally persuaded Andersson to launch his own collection of cool, drape-y knits.
His most recent collection -- executed primarily in virgin wool, silk, linen and cashmere -- combines soft, wearable shapes with a darker, urban appeal, articulated in everything from sophisticated wing-like mesh panels on a black pullover to the asymmetrical hemline on a fitted knit dress.
Despite having moved to New York, Andersson continues to find inspiration in his homeland. "Sweden is always inspiring," he says. "I love the history, the vikings, the countryside -- which is very dark and rugged but can also be very pretty and romantic, especially if you go south -- but of course the darker parts are more inspiring to me."
Andersson is especially intrigued by his country's dark, romantic countryside. "I love the forest in Sweden. Very dark. It's magical ... I aspire to make my clothes have some of this magic about them."