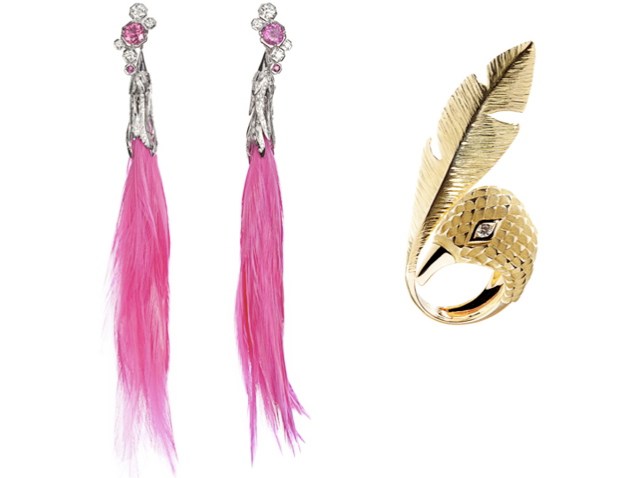 It's not every jewelry designer that can say Andy Warhol had a hand in launching their career.

"I was designing windows for Armani one summer break and Andy Warhol asked me to come work for him," explains Wilfredo Rosado, "so then I worked at Interview magazine." In fact, it was a shopping excursion with Warhol to the diamond district prowling for antique gems and estate jewelry that first piqued Rosado's interest in jewelry design.
The exuberance and overall playfulness of Rosado's work makes it plain to see what Warhol and others must have gravitated toward in this young pre-med student from NYU. Joyful and dripping in colored diamonds, the collection is not "for the shrinking violet," Rosado says.
"The mood is sexy, without doubt," he explains. "All my pieces have movement, they don't hang stiffly on your body. Everything moves to catch light and shine. All these elements create a sensual feeling for the wearer."
Indeed, we can imagine his "pink plume" earrings -- featuring a long bustle of hot pink feathers set in 18-karat gold and enshrouded in diamonds and tourmaline -- swaying in the breeze, or his gold "fringe" ring jangling on a finger.
Glancing through the lookbook, one starts to get an image of the woman who would own all of these pieces: an eccentric diamond-devotee, perhaps, with a couture collection to match her enviable jewelry-box. But Rosado puts it better: she's "someone who can appreciate the quality and craftsmanship of a Place Vendome jeweler but who has a strong sense of style and wants to veer away from grandma's jewelry."