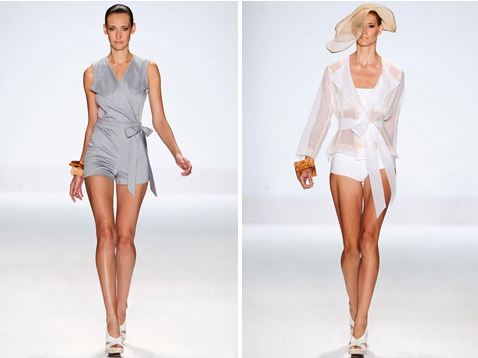 Hawaii-native Ivy Higa relocated to New York City to follow in the footsteps of her idol, Donna Karan.
"As a child, I remember watching a biography of Donna Karan on The Style Network, which is what helped solidify my passion," explains Higa. "I always innately knew I wanted to be a fashion designer, so I decided to move to New York to actually pursue it."
Higa's commitment to her dream brought her all the way to Parsons, where she earned a degree in fashion design before eventually launching her label, Ivy H. "That's where Donna Karan attended, so that's where I wanted to go as well," says Higa. "She's been a huge influence to me."
Karan's significance aside, Higa has since matured into an admirable designer in her own right, her garments at once feminine and sporty, modern and romantic.
"My style is not a lot of bells and whistles. It's about good fit, a lot of attention to detail, and timeless style," she says. "The woman should wear the clothes, not the clothes wearing the woman."
Details to look for in any Ivy H. piece include floaty open backs and multiple-wear options. "I like to incorporate convertibility in some garments, allowing one piece to have two or more looks," she explains. "I always enjoy surprise and discovery in garments, so I try to incorporate them whenever I can."