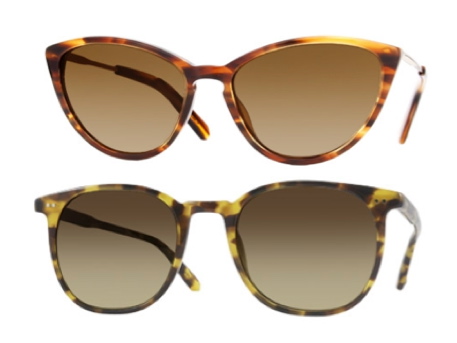 You could say that stylish sunglasses are kind of the Leight family business.
Garrett Leight, founder of the Southern California-based eye wear brand of the same name, admits that some of his design talent might be owed to genetics. After all, his father, Larry Leight, is owner, founder, and designer of the super-successful Oliver Peoples. "I worked at Oliver Peoples for three years and gained more knowledge and experience when I was there," he explains.
Launched earlier this year, Garrett's collection focuses on classic eye wear styles. "I get most of my inspiration from the community I live in -- Venice Beach," he says. "I love the creative people that have original style and fly under the radar. I also love iconic authors and characters from the '50s and '60s. Arthur Miller, Hunter S. Thompson, Clint Eastwood -- especially Dirty Harry, Ingrid Bergman and Grace Kelly."
Lovers of timeless tortoise frames will reach for the no-nonsense "Brooks," while slightly funkier (though no less classic) fare can be found in the form of "Lucille," which boasts a sly, cat-eye shape.
"We are taking it back to basics," says Leight. "We are making timeless classic frames that are perfectly constructed and affordable. I think we also represent a lifestyle that is reminiscent of youthfulness and light-heartedness. It's a reminder not to take life so seriously and enjoy the ride."
Solid advice for those of us compiling spring wishlists and planning mid-winter escapes -- occasions both for chic new shades.