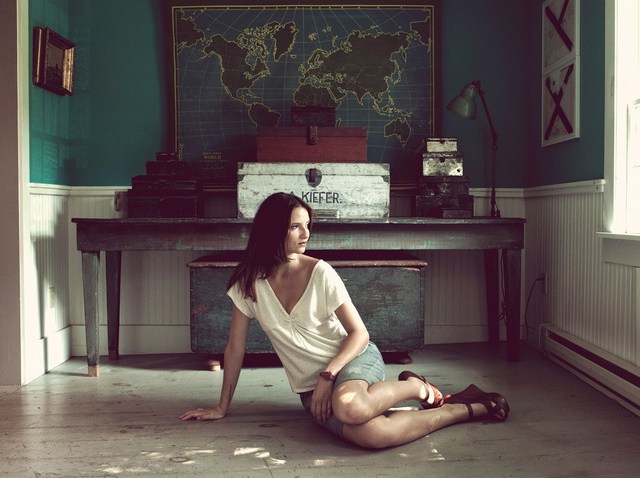 When it came time to choose a name for her new line, Parsons grad Kristina Angelozzi hit the books. "I really wanted to give it a name of it's own -- not mine, as many designers do, cause it felt too personal," she explains. "But I liked the idea of using a family name, so I went digging through some Scottish family names, and really liked Fischer. I tinkered around with the logo and all and liked the look and feel of it so it stuck."
A Baltimore native, Angelozzi worked in theater design before diving into the New York design industry, trying gigs everywhere from the Gap to Hanes before finally hopping off the hamster wheel to launch her own label out of her Greenpoint studio.
Debuted in the spring of last year, Fischer Clothing is hardly the flowery confection you'd expect from an ex-costumer and self-described "history nerd." Rather, the line is modern and wearable with just a whiff of classic Americana, as in her feminine printed blouses and perfectly-cut sundresses, as well as clean menswear staples like button-down oxfords and chino shorts.
"Being an American designer, denims and cottons are in my blood, and almost all my fabrics are natural wools, silks, and linens," she explains. "My goal with the line is to create a versatile American-style wardrobe, made in America. It ranges from casual to dressy, but looks different from person to person depending on their accessories and styling."
With her first-ever trunk show scheduled at Fort Greene's Thistle & Cover at the end of this month, Fischer Clothing is sure to become a more familiar sidewalk staple this summer. "Other than that, I'm looking forward to putting together a presentation in the next season or two," she says. "I'm really into the idea of incorporating live music and/or art, etc to push the concept and add another layer to the overall brand. Plus, I love a good party."