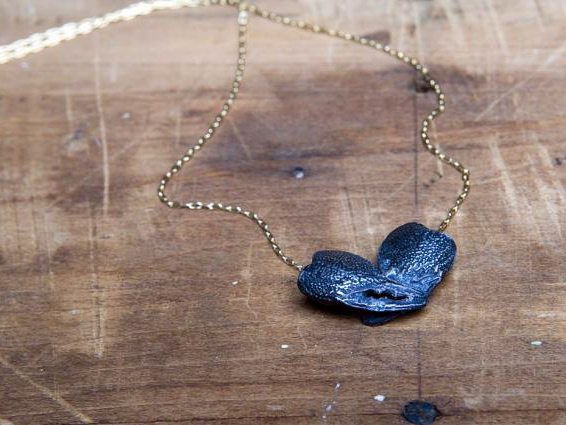 Elizabeth Thompson claims she's always been a "dreamer," infamous for stowing away during childhood play times to build fantastic secret forts, or come up with strange new recipes of her own invention. It was precisely this pastime of "imagining something ... sketching it out [and] creating an object" that first brought her to jewelry-making. Her signature collection, dubbed Elizabeth Knight Jewelry, is the three-dimensional incarnation of her day-dreamy tendencies.
Thompson's first two collections, "Ground & Water" and "Armored," made her underiding theme of introspection even more literal with meditations on the "ino- and exo-skeletons." As she explains it, "one exposes the idea of vulnerability, while the other protects. My customer is someone who is fearless and communicates that strength in their style."
The results of her debut efforts are strikingly unusual pieces that articulate her theme without feeling medicinal or gimmicky, as in the "Claw Heart" necklace, which features two lobster claws clasping each other to form a heart-shape.
Nature in general is an infinite source of inspiration Thompson, whose latest collection, "Dark Horse," features braided tufts of horse hair, while the previous line, "Water," includes pieces made to look like the uneven surface of a body of water.
To see the complete collections, visit www.elizabethknightjewelry.com.