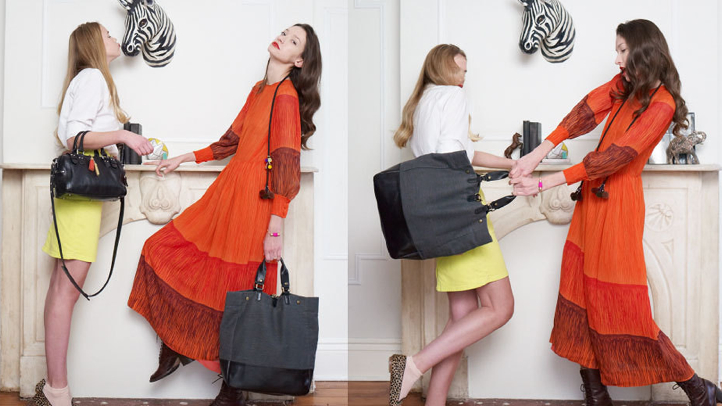 Before they launched their handbag label, Eayrslee, designers Joanne Lee and Mimi Eayrs knew from experience that they worked well together, having collaborated at Hayden-Harnett where Lee served as a handbag designer and Mimi served as art director.
"'What if we started our own line and did whatever we wanted?' was sort of a half-serious question," recalls Lee. "It kind of snowballed and took on its own momentum. Sometimes it's still a bit surreal to us that we're really doing it."
Their collection of cool, slightly utilitarian satchels and handbags are guided by a simple credo: "simplicity and functionality," says Lee, who studied psychology and apparel design before falling into accessories work during an internship.
While the shapes are generally fuss-free and simple, more vibrant colors and fabric treatments are on their way for fall. "We're keeping our traditional and functional shapes as the core of the line, but bringing in materials and hardware which make the bags more bright, fun, and unexpected," explains Eayrs, whose background in painting and textile design lends itself easily to statement-making accessories. "Think exotic leathers, bright colors and neon hardware."
Art, travel, and a special interest in "old lady style" continue to propel their designs into the future. "We love stylish old ladies who effortlessly put themselves together with really quality items they've owned for years," says Lee. "We're also inspired in the idea of heritage and having timeless things being passed on from our grandmothers," adds Eayrs.
Looking a their cool, classic designs, we likely won't have any trouble using these chic satchels well into our golden years.