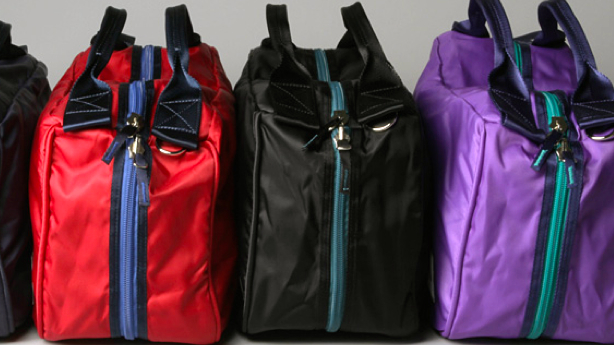 Parsons grad China Young was trolling through satchels and bags in a Brooklyn vintage store when he came across a remarkable old duffel.
"In the midst of all the fancy leather bags, there was this brown nylon pack with white zippers that ran around the entire duffel," Young says of the discovery. "I started playing with the zipper and was blown away by how it doubled in size."
Young researched the bag's origins to find that the original manufacturer -- a company called Dubbel Duffel -- had existed through the '70s and '80s. Inspired by the bag's mega-functional design, Young set out to reinvent the Dubbel Duffel with his own high-fashion sensibilities.
"The original design concept was smart," says Young, who also works as a design consultant for LeSportSac and Betsey Johnson Luggage (launching this summer). "I wanted to update it with soft, durable nylon fabrication, luggage-grade zippers, fun color mixes, handles that went over the shoulder, and better quality hardware."
Spotting the stylish potential in Young's revamped duffels, Opening Ceremony collaborated with the designer on a small range of exclusive, super-colorful travel bags just in time for the brand's 35th anniversary. With just 30 pieces per color way, the bags -- which became available just last week -- are certain to become collectibles.
Luckily, Young already has production plans beyond this first OC collaboration. The official fall launch "will have an unexpected mix of patterns and additional shapes, like back packs that double up a fanny packs." We were already impressed by Young's design ingenuity, but if he single-handedly delivers the fanny pack from '80s obscurity, well ... Let's just say our shoulders might thank him.