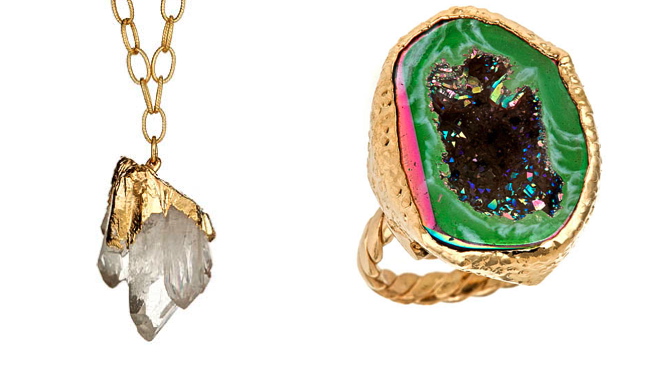 Unlike many of the young designers we encounter -- who seem to have known almost from birth that they were destined for design -- jeweler Dara Ettinger fell upon her passion by accident. Previously working as a costumer for film and television, Ettinger relocated from New York to Los Angeles to pursue her entertainment career in the middle of the writers' strike.
"Not able to find steady work for several months, I started making bracelets using buttons from an old clothing line I had," Ettinger explains. "And, when I started to incorporate the natural stones, demand for these novelty pieces picked up, eliminating my need for full time work!"
Now re-installed in New York City, Ettinger focuses all of her efforts on a collection of beautiful baubles and elaborate gemstone jewelry. "I use a great variety of stones, which I think helps separate me from the other designers who use natural stones," she explains. "We change our designs to incorporate the stones into the different seasonal looks and classic styles, but the stones themselves are the stars."
While Ettinger continues to work with stones like amethyst, citrine, and turquoise, she claims to have a special affection for agate, a glittery, banded stone. "There are an immeasurable number of forms agate can take, and I am fascinated with all the ways we can work with it. It really is an incredible stone."
Her classic mineral rings, shimmery studs and stackable stones will continue to be an important part of the collection, but recently, Ettinger also began experimenting with new materials and colors. "The designs are evolving," says the designer, who will introduce "new classics" in 2012 with "bright, fun colors, juxtaposed materials [like] enamel, leather, and new ways to wear our signature stones."