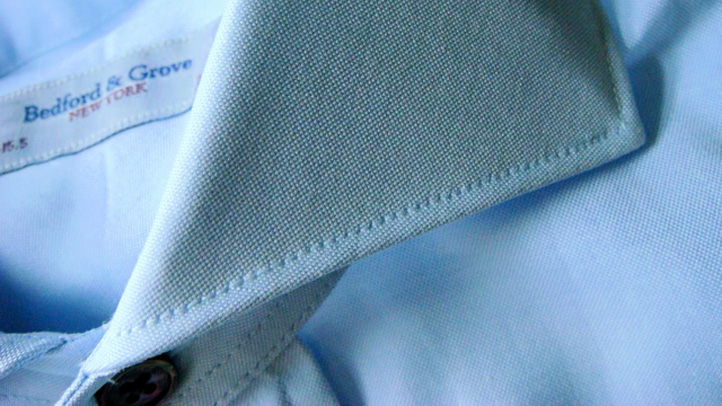 Michael Duke and Christopher Gloria of men's shirting label, Bedford & Grove, met while studying accounting and finance, respectively, at Rampano College. "Since we're both from business backgrounds, we had to learn everything from the ground up," explains Duke, who creates the label's sport shirts while Gloria handles dressier designs. "There was a lot of research involved in garment construction, textiles, and we bumbled around a bit before we figured out where and how we would produce everything."
But figure it out they did, and Bedford & Grove — named for a sunny corner in the West Village — made its debut this season with a lineup of immaculately tailored men's shirting, all produced in the U.S. from premium English cottons.
"I had always searched around for some of the best quality garments for the price, and realized the best are made using materials and construction techniques that are only offered to the bespoke world," Gloria explains. "I wanted to make quality materials and construction more accessible to the ready-to-wear world and for people that don't want the hassle and price tag of custom, but want to know that they're paying for a well-made garment."
Starting out, Duke and Gloria decided to hone their shirting techniques before undertaking a complete menswear collection — something they hope to offer in the near future. "Shirts are an important core part of any great outfit or wardrobe," explains Duke. "It made sense to start the line there and build upwards."
Gloria adds that "shirts are also the most accessible to people, even those who don't give much thought to style." Even a menswear novice can appreciate the thoughtful detailing present in each Bedford & Grove piece, including sewn-in interfaces, bias-cut yokes and mother of pearl buttons.
With classic shapes and appealing patterns, we think the brand's imminent success might be chalked up to Gloria's simple dressing credo: "You can never have too many shirts."