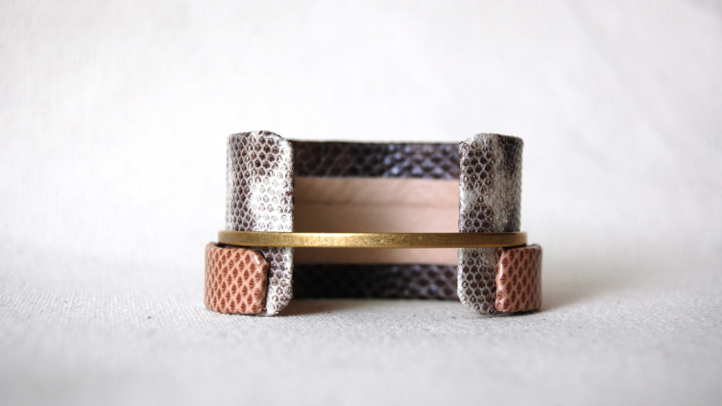 As a kid, Beatrice Kim was rarely seen without a sketchbook and pencil.
"I grew up taking many art classes—drawing, painting, color theory, sculpture, pottery," says the Massachusetts native. "I taught sculpture and pottery to elementary school students while I was in high school."
It was during high school when Kim discovered her sculpture and sketching skills translated easily to making jewelry, which she eventually studied at New York University's Gallatin School, along with photography and metalsmithing. After graduation, Kim cut her teeth in the fashion industry as an assistant fabric buyer at Marc Jacobs, and later as a production manager for Isaac Mizrahi and the Row.
"The Row was where I really began to develop a more personal appreciation for and sense of craftsmanship and style," says Kim, whose eponymous collection of baubles takes inspiration from the fine art world.
"I am inspired by sculptors, photographers, and painters like Richard Serra, Luigi Ghirri, Edward Steichen, and Egon Schiele," says Kim. "They have a way of balancing the tension between power and humility."
Kim tries to explore the same tension in her jewelry, combining precious materials with more everyday finds for a look that's at once edgy and organic.
"My primary materials are metals, leather, wood, exotic skins, and other natural materials like nuts and stones," she explains. "I find most of my materials in New York, and others directly from Italian vendors, as well as antique fairs and garage sales throughout New England."
Her pieces also have a versatile appeal, many of them designed to be worn multiple ways. One bracelet in particular is composed of three separate pieces—two snakeskin-covered cuffs and a thick brass bangle—which fit onto one another or can be worn separately.
"I want people to interact with my jewelry," says Kim. "I want them to have a dialogue with it, and enjoy wearing it in whichever way they choose on any given day."

To see Beatrice Kim's complete collection or for ordering inquiries, check out her website, www.beatricekim.com, or her process blog at www.cargocollective.com/beatricekim

Related Stories: