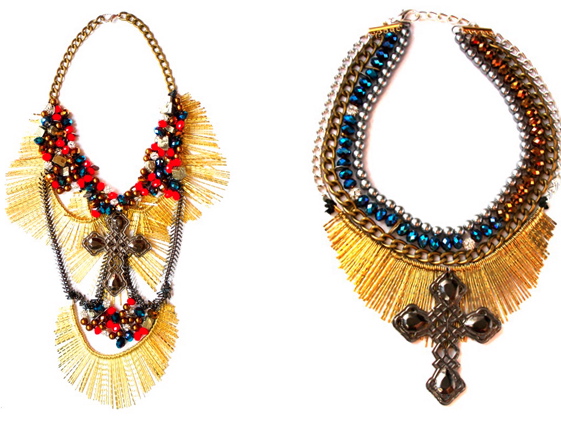 Assad Mounser's crafty jewelry looks like the kind of thing your baby sister would make for your birthday -- that is, assuming your sibling is preternaturally chic.
With fashion biz experience at the likes of Moschino and Alejandro Ingelmo, the New York-based designer cultivated her taste for the extreme by layering bizarre, eye-catching baubles one on top of another, like shards of glass mixed sewn to metal spikes and glittering gemstones. The results of her mad-scientist jewelery experiments are excessive, quirky, and undeniably cool.
Unlike most jewelers, Mounser prefers to give her collections a narrative arc. Her Spring '11 line, for example, seems at first glace to be a collection of explosively colorful baubles and shimmery fragments. But it's actually intended to evoke a Phoenix rising from the ashes and ultimately finding redemption. Whether or not we're able to see the storyline in the work, of course, seems secondary to the fact that each piece is more devastatingly gorgeous than the next. In fact, we suspect our own style redemption hinges on whether or not we get our hands on one of Mounser's thickly-beaded charm bracelets.