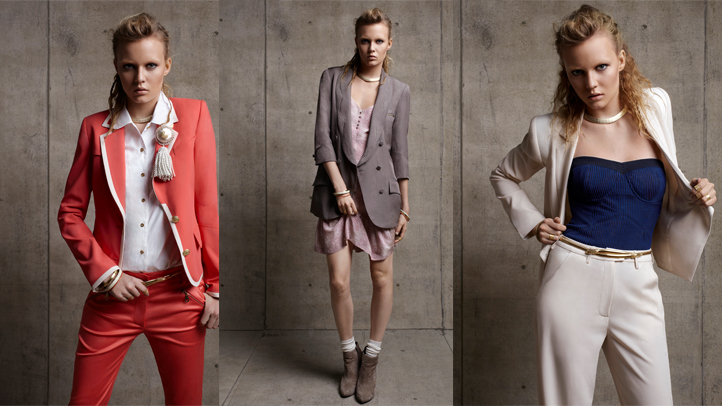 Aja Singer and Anna Zemen launched their collection of mens-inspired suits and separates, "Alex & Eli" (so-named for the ladies' respective middle names), after spending four years studying science as undergraduates.
"We were keen on the idea [of launching a label] because we both approached our work with impeccable diligence -- science backgrounds to blame -- which we knew was key for starting a label focused on the tailored wardrobe," says Anna.
Indeed, the ladies bring razor-sharp precision to their sculpted suiting; in particular, beautifully-fitted jackets that often incorporate unexpected design details like a long, draped lapel.
"Anna gets really passionate about seam work and details, and I really fall in love with the way a garment fits and creates the desired silhouette," says Aja. "We both have a very strong relationship with color and its implementation into the collection."
Nowhere were their color-combo instincts better demonstrated than in the cheery spring/summer '12 collection, which included pops of bright teal, rich poppy and metallic, silvery textures.
"Suiting is transformative," says Anna. "It allows a women to be feminine, bold, powerful, sexual, experimental. It's really how one chooses to be perceived in a blazer, or how the blazer makes them feel."