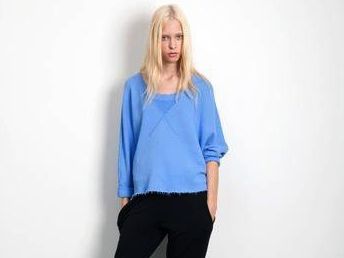 Fashion folks often bemoan a lack of comfy-yet-stylish wardrobe staples: versatile pieces that can easily be worn to the office, or double as weekend gear with the addition of fuzzy slippers and a tank top.
To address the issue, London-born designer Cynthia Mittweg resolved to reinvent her favorite cozy sweatshirt as a stylish essential. "I had always been inspired by designers like Norma Kamali, who took casual fabrics to create really fashion-forward pieces," explains Mittweg, who launched her debut collection, AIKO, in the spring of last year.
"The classic sweatshirt was always a staple in my wardrobe, but I have never enjoyed dressing casually, so I felt it could be a fun concept [if we added] a twist."
Loaded with funky prints and tantalizing textures, the AIKO line offers oodles of Mittweg's favorite snugly knits, rounded out by swishy leather skirts, dip-dyed maxi dresses and breezy cotton shifts.
"The line has evolved into many more categories with the same quirky, feminine AIKO aesthetic," says Mittweg. "We have gradually been introducing sweaters, wovens, leathers, and more knits each season."
The designer credits her seemingly-limitless imagination to her childhood spent abroad. "It definitely has a way of coloring your world," she explains. "Different cultures have always been a huge inspiration as well as a reference in my design while I'm doing research." In past seasons, Mittweg's exotic references included a charcoal gray tiger print sweatshirt or, for fall, a range of edgy python-print knits.
With such a diverse set of interests and inspirations, it's no surprise that Mittweg considers her archetypal woman to be as eclectic as herself. "She is a beautiful mess," she says definitively. "She can hurry out the door looking fashionable, without much effort."