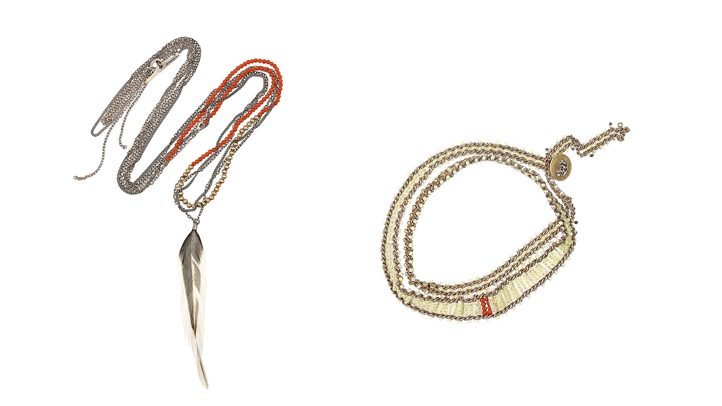 English jeweler Kirt Holmes' label, "A Kind of Fine," may be a new name on the jewelry scene, but she is hardly a newcomer to the jewelry design world.
It was over a decade ago that Holmes launched an eponymous collection of gems after cutting her teeth at Erickson Beamon. "Vicky Sarge was a genuine influence on me," Holmes reflects. "The American attitude towards life and achievement in general is so different from the English. They have a real 'can do' attitude, so working for someone like this gave me a real sense of believing things were possible -- which was a good entry point into the world of fashion."
With "A Kind of Fine," launched in the spring of last year, Holmes sought to refine her approach to jewelry-making, drawing on lessons learned with her first collection. "It's been very important for me to follow my instincts and to create things organically and as honestly as possible."
For Holmes, "honesty" pertains not only to purity of concept -- each piece is intended to evolve and change with its wearer -- but purity of materials. "If it looks gold, it is gold -- not gold vermeil that with time will wear off and become dull as the base metal is exposed," says Holmes. "The most important consideration for me is how the piece will wear."
In general, Homes' designs for a A Kind of Fine have a luxe-meets-bohemian feel: Rather than use real feathers (like so many trendy young designers), Holmes renders them in sterling silver.
"It doesn't wear out," Holmes says. "It wears in and carries the history of the wearer with it, taking on a character that cannot be bought -- so I use materials that consider this."
Presently, Holmes is operating a temporary storefront in London, but says an e-commerce launch is on the way. For now, though, Holmes is enjoying in-person retail. "We get people coming back telling tales of how much they love the jewelry they have from me, that whenever they wear it they get compliments," she says. "I like hearing that. I like a success story."