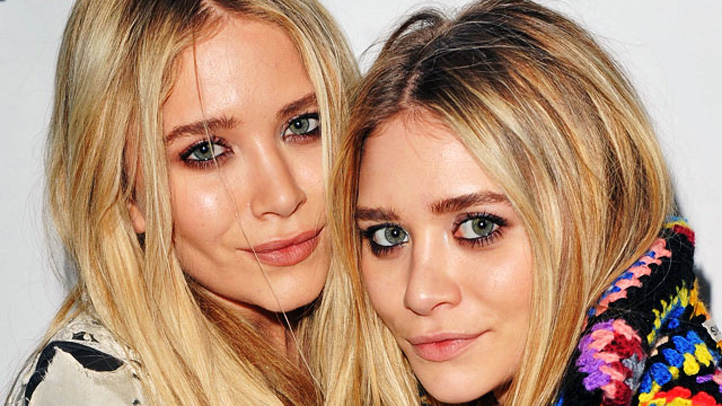 Having expanded their brand from tween videos and Wal-Mart to respected contemporary and high-end labels, Mary-Kate and Ashley Olsen have successfuly shifted gears into a wildly profitable fashion endeavor -- one that is worth about $500 million per year, according to WWD.
In this month's issue of Harper's Bazaar, the twins debuted a new line of handbags for their high-end label, The Row, marking another step in the evolution of the top-market luxury basics line the Olsens started in 2007. Be warned, the bags -- which are set to hit stores in time for Fall -- are incredibly expensive, running between $4,700 for the Twin mini ostrich and $5,800 for a lizard shoulder bag. The Row helped establish their fashion cred: a conscious move, they told WWD, before moving into the contemporary market with their second line, Elizabeth and James.
In a pair of profiles in today's paper, WWD looks at the rise of the tiny twins, who coincidentally became famous based on unrelated merits -- their adorable nine-month-old faces. Pioneering the celebrity-licensed genre of fashion with a tremendously lucrative relationship with Wal-Mart, the Olsens did something a little different, parlaying actual talent for design into a variety of collections all the way to the most exclusive department store floors.
Next up for the Olsens: a T-shirt collection and involvement in the web community at StyleMint.com, debuting in July. The girls are venturing beyond their typically rather reclusive behavior to front the endeavor, all out of an effort to connect to the consumer. As Ashley Olsen told WWD:
"The online world of communicating directly with the customers is amazing," she says. "From the whole process of how you speak to the customer, how the customer will speak back to you, to why did that person buy the blue one versus the pink one and then having all that data. Where is she located? How old is she?"
As their journey into retail evolves -- in total, they've got The Row, Elizabeth and James, Textile Elizabeth and James and Olsenboye for JC Penney -- the Olsens have betrayed more and more industry savvy, a fact not lost on major retailers. As Daniella Vitale, chief merchant and EVP of Barneys, told WWD: "They have not built something off of their name, which as we know, many celebrity designers or creative directors do. Rather, the collection is built on the actual clothes. They may have been pigeonholed in that [celebrity designer field] initially, but I don't think of them as such."