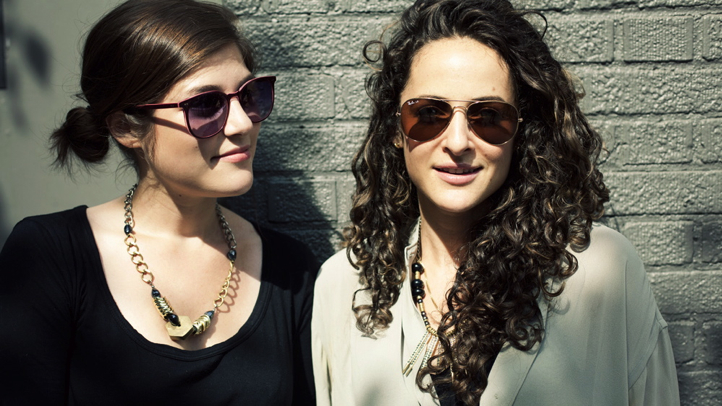 This year, Claire Mazur and Erica Cerulo celebrate their "ten year friendship anniversary," having met in 2002 at the University of Chicago. They're also toasting to the success of their year-and-a-half old business, "Of a Kind," a unique e-commerce destination that cultivates new design talent through special product "editions" and editorial content. With a major site overhaul now complete, we checked in with the ladies to hear what it's like collaborating with your best friend, and what new additions we can expect in the future (hint: a designer "marketplace" is in the works).

How did you meet?
Erica: "We went to college together at University of Chicago, so we met in 2002. This is actually our ten year friendship anniversary -- kind of exciting! So yeah, we were friends through college and we were involved in various extra-curriculars, and we were involved in one together called Major Activities Board, so it gave us a good foundation in terms of working together beyond a friend capacity."

What was your professional background prior to launching Of a Kind?
Claire: "I was working in arts management, so I worked in galleries and with individual artists and art groups, and Erica was working in magazines -- at Details and then Lucky."

How did you hatch the concept for Of a Kind?
Claire: "I was working in arts management and what really interested me about that field was the idea of being a support system for artists and helping creative minds realize their projects from a logistical, marketing and financial perspective. I was excited about this business that had just started recently called 20 by 200 by a gallerist named Jen Bekman. She was selling limited-edition prints from emerging artists on her website, and it was a game-changer for me. It was a way for artists to market and sell their work outside what was a really insular gallery system. I was applying for a job there for probably the third time ... and I emailed my cover letter to Erica asking, 'is this crazy? Can you help me tone down the crazy in this cover letter?' ... Erica and I got to talking about 20 by 200, what worked, and what didn't work so well ... Eventually, we came to this idea of, could we do what she was doing for artists for new fashion designers?"

Erica: "Coming from the magazine world, what became really interesting to me was incorporating editorial into that model as well. I was working for magazines at an interesting time, when a lot of the books that people just absolutely loved -- like 'Domino' or 'Gourmet' -- were folding. But you knew that while those magazines were having issues selling ad pages, they weren't having issues engaging an audience and, presumably, moving the product they were featuring. In thinking about the difference between the art world and the fashion world ... it became important to really engage people with the makers -- to tell the story of how the things were made, who the people are behind them, and what they're about philosophically to really get people invested in someone they had never heard of before."

How do you go about finding your designers?
Claire: "It's kind of the same way you find a band you love. You go to a music store or you browse the internet, music blogs, you talk to friends ... Every time we travel we make a point of going out to the boutiques to see who they're carrying, and that tends to be a gold mine."

Erica: "Since we've been around for a little while now and have built up an archive of designers we've worked with, we've started getting a lot more emails from designers pitching themselves, so we've started working with a lot more designers. It's exciting to get an email from a designer whose work you really respect."

What is it like working with a close friend?
Claire: "I think we've gotten the hang of it. We had a unique friendship that was cut out for it. We both say we have plenty of friends we wouldn't want to start businesses with. We have little things -- we know we can only see so much of each other, and we try not to see each other on weekends ... It helps a lot, because any time you have a business partner you see every day, you're going to get sick of seeing them after awhile, so liking each other and really caring about each other helps. Having ten years of history behind us, we know all the tics and neuroses."

What's the most difficult thing about running your own business?
Claire: "I would say never being able to leave it behind. The second I catch myself leaving it behind, I start feeling guilty about it ... You don't ever have weekends off or anything."

Erica: "I feel the same way. I was out of town for my brother's wedding this weekend and there was a lot of, 'Why do you have to work today? It's Saturday.' It's shocking to people that you can't turn the internet off. I'm sure anybody who owns a business feels the same way -- that you can never unplug from it, but especially if you're getting customer service emails at 2 a.m. It gets really hard not to let it be the last thing on your mind at night -- that someone's package is missing, and now you have to go track it down via UPS and see what happened. You stress about all those things."

The site redesign is great. What were some of your goals for the new layout?
Claire: "The primary consideration has always been how to integrate editorial and e-commerce in a way that feels true, so that when people are looking at our products they're aware of the stories that go along with them. We always say that we don't want it to be a blog with a shop in the corner, or a shop with a blog in the corner. I think that's always been the biggest thing. With the new design, the big challenge felt like accommodating more and more product. We started with a lot less product on the site and found the original design didn't allow us to showcase more than one product at a time, which became problematic."

Erica: "We've worked with almost 90 designers, and have had over 100 editions. It felt like we wanted to showcase everything we'd done in the past, and the designers we worked with in the past, and now there's much better placement to do trend-driven things, and product round-up, and feature past designers and bring people into stories in different ways."

How do you see Of a Kind expanding in the future?
Claire: "I think the one thing we've really seen in the past year is that e-commerce is a much more powerful engine for young designers than we thought. So we're looking to expand that and build components of the site that will allow designers to do their own e-commerce on our platform. We've spent so much time building a brand and cultivating an audience, and we would like to allow the designers we work with to take advantage of that in a broader way than they can now. So we'll be building out a marketplace so they can basically set up shop on the site."