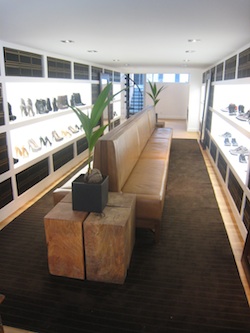 Tucked away in a tiny yet airy sub-level space on Wooster, the much-anticipated Alejandro Ingelmo shop is now open.
The first thing that hit us when we entered the sparely decorated store was the aroma--something faintly remisicent of that new car scent, only better because it's coming from the shoes. About 10-15 of Ingelmo's racy-chic fall styles are on display (facing about the same number of sporty-luxe models for men across the way) in brightly lit cubbies encased with stacks of gold-trimmed decorative shoeboxes, lending a vague clubby feel to the space.
A charming gallery wall shows off black-and-white prints of Ingelmo's grandfather's shoe factory and shop in Cuba, while there's a comfy distressed leather sofa on hand for you to sit at while you try on a pair—or two—of Ingelmo's wares.
Unlike that new car smell, this "new shoe" scent is likely to endure. Still, you may want to check this gem out soon.