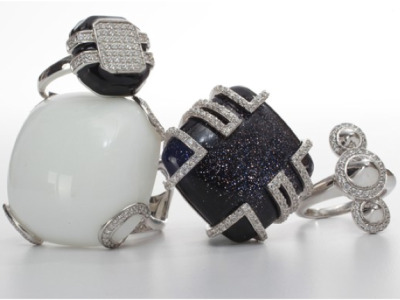 Having dabbled in handbags with Japanese label Samantha Thavasa and creating Chick by Nicky Hilton clothing line, the younger, slightly more understated Hilton sister has now created a costume jewelry collection for fall.
In partnership with Titan Brands, Hilton has created a three-collection line of affordable costume pieces including the David Webb-inspired Art Deco and Spikes and Snakes, which we imagine aims to be quite edgy. Per usual when socialite types launch lines, Hilton cited her mother's and grandmother's fine jewelry collections and the pieces she's amassed on her world travels as inspirations behind her own designs. In this case, we can appreciate the inspiration (Art Deco is always a good place to start), but we'll wait until we see the pieces in person to decide whether they pass muster.
The line wholesales between $35-$480 and will launch exclusively on Endless.com, before going to a wider distribution among department and specialty stores.