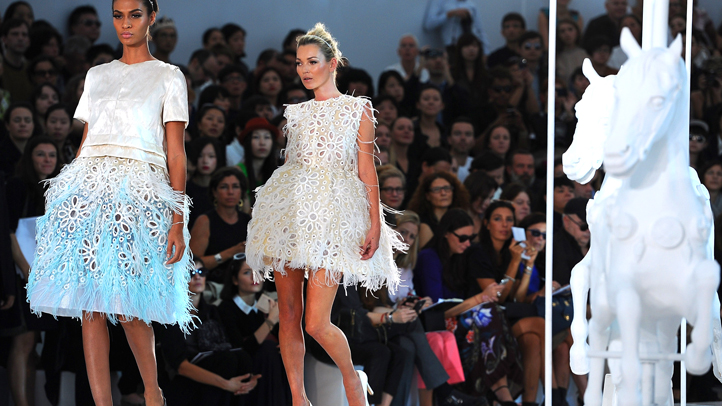 After weeks upon weeks of wrangling between the organizers of the various fashion weeks in the U.S. and abroad, it seemed we were close to a deal for new dates in 2012, as well as an agreement for New York to start on the second Thursday in September in 2013 and 2014. On Wednesday, however, WWD reports that the organizers of Paris Fashion Week voted to stick to their original 2013 and 2014 dates, sending the entire process back to square one.
While much of the back-and-forth in the great Fashion Week dates debate has occurred between the organizers of New York and Milan, Paris has been a major fixture in the discussions as they would have had to agree to the new dates being proposed by the groups. In a WWD report, president of the Chambre Syndicale Didier Grumbach made it clear that the Paris contingent was not pleased with the plan:
"It was perfectly open and clear and very obvious that our members could not accept this.…We fall at the end of the calendar. All of the member houses agreed that this would make them very late in taking orders, which in turn would be penalizing for deliveries. It's an industrial reason: you are a manufacturer, you need your orders early," said Grumbach.
Needless to say, it seems the CFDA leaders are stumped by the Paris move. Diane von Furstenberg told WWD she was "speechless," and added that she didn't understand "why Paris completely and totally just ignored what all of us have worked so hard on." Organizers in London echoed her sentiments.
While CFDA chief executive officer Steven Kolb expressed to WWD that he was hoping the Milan organizers might back the agreement they'd reached over Paris's new edict, that seems unlikely, since Boselli is quoted in WWD as saying "It's unthinkable for Milan and Paris to overlap," and stressed that if Paris does not move, Milan will not move either.
His statements echo one of the themes of this debate from the beginning: old school (European fashion weeks) and new school (New York and London). While New York has been a growing powerhouse in terms of design talent and retail heft, Paris remains the respected home of the heavyweights -- Louis Vuitton, Dior, Balenciaga, and more. Milan, in turns, boasts Versace and Armani, among others. Despite the fact that New York has the CFDA and Vogue, things will get ugly quickly if Paris and Milan choose to dig in their respective heels, forcing New York Fashion Week into a less desirable position.