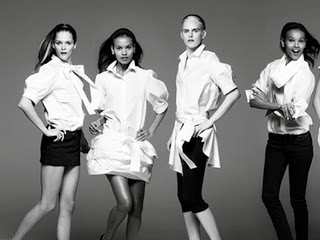 Since 2007, The Gap has been one of the main sponsors of the CFDA/Vogue Fashion Fund, collaborating on pieces with visionary talents like Thakoon (remember those white shirts?), Sophie Theallet and Patrick Ervell.
Historically, the relationship between CFDA sponsor and designer has been a mutually beneficial one: the young designer enjoys a massive dose of exposure while the brand forking over the dough ups its street cred among the fashion-savvy. This year, however, Gap has relinquished the scholarship, which will be sponsored for the first time by J. Crew. Gap has seen a decrease in proftis of late (which may account for the brand's decision to take a step back from the project), while J. Crew, having experienced the opposite, is likely less concerned with being frugal than with maintaining its newfound hipness.
Also jumping in on the CFDA action is Ann Taylor—currently in the midst of a massive branding overhaul—which will sponsor a fashion show in October featuring designs made exclusively for the company by nominees Prabal Gurung and Christian Cota (keep your fingers crossed for some beautifully-draped draped cocktail dresses under $150!).
Though the sponsoring brand stands to increase its cool factor, the main benificiary of the CFDA fund—aside, of course, from the up-and-coming fashion designer--is undoubtedly the consumer (e.g. Yours Truly), who gets to toll the racks of haute designer goods at fast-fashion prices.