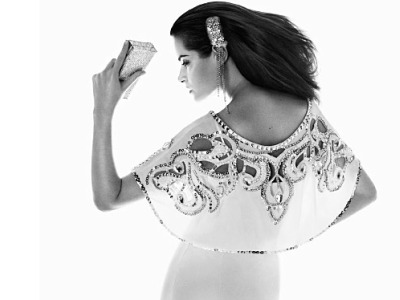 We heard about Net-a-Porter's relaunch of its wedding boutique last week, but didn't quite understand the extent of the new boutique until we popped by an in-person sampling of some of the bridal pieces. We've got to admit: It's pretty brilliant.
J.Crew made the genius move of expanding into the weddings market a few seasons ago, and has since become a welcome one-stop-shop for everything from bridesmaid dresses to walk-down-the-aisle gold strappy sandals. Even those that aren't big fans of the store's relatively basic approach to bridesmaid dresses can't argue with the fact that it supplies a number of strung-out brides with a simple, inexpensive slew of options to choose from.
Net-a-Porter is, in many ways, aiming to conquer that same market from an upscale, designer-focused angle. The e-commerce giant's winning move was to partner with Lanvin -- making available to the masses the It French label's bridal collection (Lanvin Blanche), as well as charming accessories like a satin drawstring pouch for the bride, a pearl-trimmed veil, and a little illustrated bridal book. The Lanvin dresses are (of course) to die for (we should know, we saw them up close) though the boutique also stocks some spectacular designer gowns from the traditional (a long, lace gown from Temperley) to the unconventional (a floaty playsuit-dress from Rick Owens).
On the one-stop-shop front, it's true that Net-a-Porter pretty much has it all -- from glittery Louboutins to wear on the big day to La Perla lingerie to wear on the big night. And the site has gone above and beyond to sell the package deal, including special white boxes (instead of the traditional black), stylists on-call, and more flexible returns. Scoping the whole deal, it really does seem that this would be a spectacular option for someone with designer taste, money to spend, and the willingness to do it all online. The real test will be whether this will change how the more conventional brides do their dress shopping -- for us, getting up close to the dresses was the real sell.