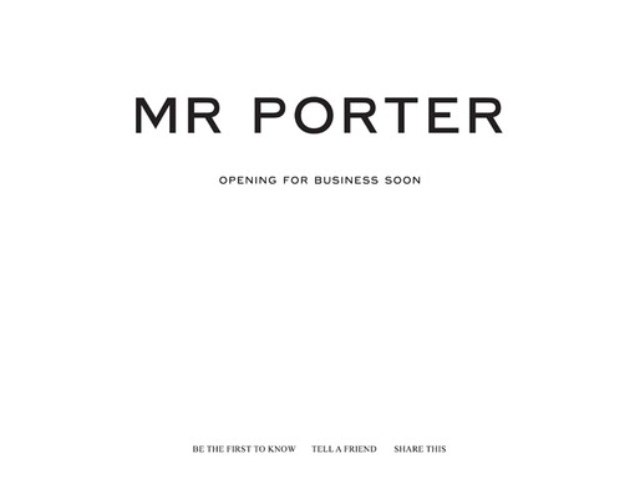 Good news for guys: Worldwide online destination Net-a-Porter is launching a menswear spin-off, cheekily titled Mr Porter. The move apparently builds on a growing momentum for men in the luxury arena.
The Net-a-Porter group's release described Mr Porter (launching January 2011) as "the first global shopping destination of its kind," a statement that, after some consideration, may just be true. Menswear has long been an area of fashion that expanding retailer cater to less, and there are few online retailers who'll be able to amass the kind of designer talent to rally around gentlemen's fashion the way Net-a-Porter can.
Indeed, the site's launch partners are a veritable who's who of hot-right-now designers, including Burberry, Lanvin, YSL, Margiela, Balmain, Rick Owens, Roland Mouret's MR line, and more -- all in all, the site will cover a whopping 60 labels.
In a release, founder Natalie Massanet emphasized that the launch comes with a ready-made customer base, considering that the majority of Net-a-Porter shoppers (59%) are "married or living with their partners." That might seem to suggest that the company is relying on women shoppers to push their male companions to shop, but as Massanet told WWD, "We've wanted to do this for years, but never felt it was the right time."
Indeed, it seems men are returning to the retail arena in force of late. A recent WWD report claimed luxury retailers especially have reported strong gains thus far in 2010, due in no small part to men returning to stores. The president and chief merchandising officer at Saks Fifth Avenue even told the trade daily: "Our men's collection has quickly become our largest brand ... We have very, very aggressive plans for it." Barneys in New York and Le Bon Marche in Paris also apparently have plans to expand their menswear offerings. By the time Mr Porter opens for business in January 2011, it seems men will indeed be shopping.