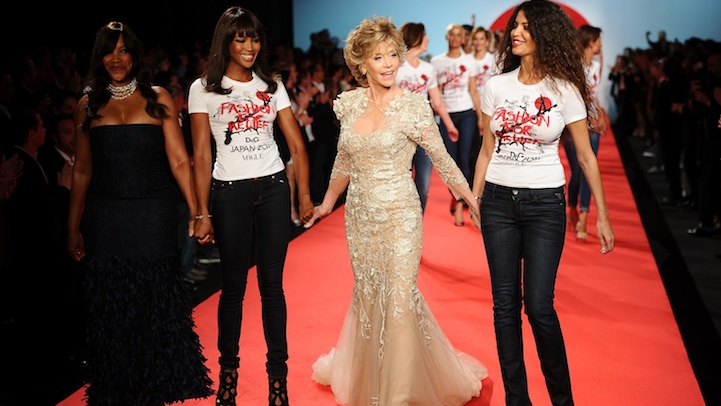 Naomi Campbell showed off a softer side with her latest charitable initiative, the Fashion for Relief fashion-show fundraiser in Cannes, featuring designer red carpet gowns to be auctioned off for Japan's Red Cross.
It was a spectacular show in terms of fashion, as gowns from the likes of Alexander McQueen, Marchesa, Elie Saab, and Lanvin were all modeled by stars like Rosario Dawson, Karolina Kurkova, and Campbell herself. That said, there were a few note-worthy stumbles along the way: These weren't amateur mistakes -- even It-model Lindsey Wixson (who recently took CNN along to her prom) took a spill, not once, but three times, with a few gamely thumbs-ups in between.
According to the Telegraph, Jane Fonda closed the show to the loudest applause of the night, looking, well, seriously hot for her 73 years.
The British paper also posted a montage of models falling for the world's viewing pleasure, which we've posted below. Remember, it was all for a good cause.