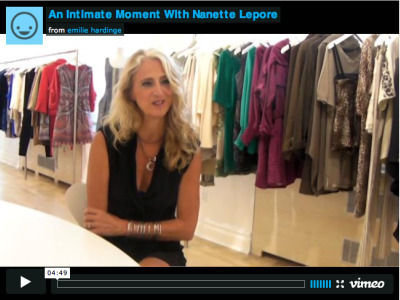 Designer Nanette Lepore recently appeared in a video on the Gramercy Park Hotel's blog (a somewhat unlikely, but brilliant venue) to talk about her collections and her most beloved New York City cause: saving the local garment district.
Lepore, who, according to WWD recently shot an online catalogue at the Ian Schraeger hotel, was featured in the blog's video series, which has also included celebrities such as Demi Moore and Uma Thurman. Lepore seized the opportunity to voice her mission to save the garment center:
"I'm really working hard to save the Garment Center. I want to stop the feeling that we're being pushed out and that the factories are being moved out of the city and get some support from our local governments—and national—to preserve our factories, so that the Garment Center can still exist here in New York City, [where] I learned to make fashion through these factories and so that young designers can come up and have the same opportunities I had."
Her advice to young designers helped drive home her point about the significance of the garment center, advising them to focus on being self-sufficient and learning how to make patterns and sew, rather than expecting to present a runway show right from the get-go.
An Intimate Moment With Nanette Lepore from emilie hardinge on Vimeo.